6 Reasons to Revamp Your Bathroom
The bathroom is one of the busiest rooms in your home, but we often treat it as no more than a functional space and we are in and out in a matter of minutes. That is a shame because the bathroom has the potential to be a special place if designed well. We wake ourselves up in the shower so we are ready to face the day, we play and laugh with our children during bath time, we teach them how to brush their teeth, we bathe the dog after his muddy walk, and we unwind in a hot bath after a busy day. It is as important in our family life as any other room, so why do so many of us neglect it? Here are six reasons to give some serious thought to revamping your bathroom.
1. To give it some personality
Many of us live with bathrooms decorated by our landlords or the property's previous owner, and plenty more live in newly built homes that are typically neutral. In both scenarios, it may be time to put your own stamp on the bathroom. A few simple changes such as the color of the walls, a new shower curtain, and some new taps might do the trick, but with the help of a bathroom remodeling contractor, you could also replace the toilet, bath, shower, and sink so you have the bathroom of your dreams in design and décor.
2. To maximize your storage
Storage solutions have advanced over the years, and today even the smallest of bathrooms can remain organized and spacious. With the right storage, you can keep your personal hygiene products, dental care products, towels, luxury bath products like candles and oils, and toys for the kids out of sight until they are needed. By minimizing the clutter, you will also find it easier to clean the bathroom.
3. To better suit your lifestyle
Over time our lifestyles and priorities change, so the bathroom which used to work for you may no longer be appropriate. For example, perhaps you and your partner used to live alone, and only having a shower was lower maintenance. Now, you have children and a dog, and all the extra products and toys that go with them, so a bath and extra storage sounds like a great idea.
4. To repair and prevent damage
Bathrooms are naturally going to be prone to humidity and moisture, and over time even the highest quality bathrooms will develop mildew, mold, and rot. It is also common for tiling, flooring, and the gaps between the tiles to become brittle and cracked. Just one or two cracked tiles will make the whole bathroom look dated. Professional bathroom remodelers will be able to recommend the best materials and products to increase the durability of your bathroom and prevent future problems.
5. To make your bathroom more eco-friendly
We all need to work on reducing our water usage for the good of the environment, and the majority of our water consumption takes place in the bathroom. Modern bathrooms can be designed with water-saving showerheads, toilets, and faucets to minimize water usage. This will reduce your water bills and help you to minimize your impact on the planet.
6. To increase the value of your home
One of the most effective ways to increase the value of your home is to bring an old bathroom up to date with clean décor, water-saving appliances, intact surfaces, and plenty of storage. The best way to do this is to hire professionals as you want to be sure that you will return on your investment. Click here for more renovations that can add value to your home.
---
Prevent Water Damage and Mold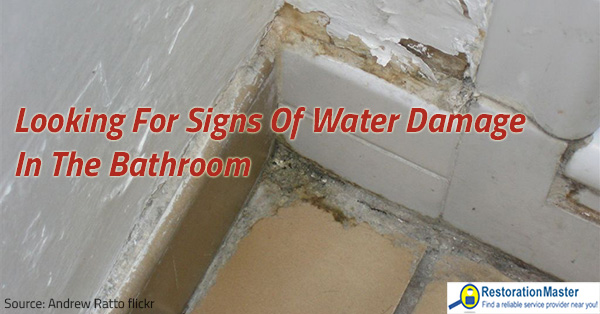 Remodeling your bathroom to your preferences will make it an oasis in your home, not just a functional space. One thing to remember about your bathroom is that it is always vulnerable to water damage and mold due to the presence of water and humidity.  If there is water damage in your bathroom, you need to call a water damage restoration professional immediately to remove the water and restore the damage.