ServiceMaster by Timeless
A water damage disaster can strike at any time.  Heavy rain, flooding, and other wet weather conditions are common causes of water damage, but it can also occur due to plumbing or appliance leaks, broken pipes, overflows, and even sewage backups.  It is important to react quickly with professional disaster restoration services when water damage occurs and have the excess water and moisture removed to prevent serious damage.  Water can easily spread through porous building materials and furnishings to cover a larger area of your property and it can cause significant damage to the affected materials.  Mold growth is also a high possibility when dealing with water damage.
At ServiceMaster by Timeless, we provide water damage restoration services in Morristown, NJ to remove excess water and repair the damage.  Our water restoration professionals use advanced water extraction and drying equipment to remove standing water and extract moisture from affected materials.  Once the water is removed, we can repair and rebuild your property to get it back to its original condition.
If you find water on your property that contains sewage or other waste materials, ServiceMaster by timeless is fully equipped to hand sewage cleanup projects as well.
Problems Caused by Water Damage in Morristown, NJ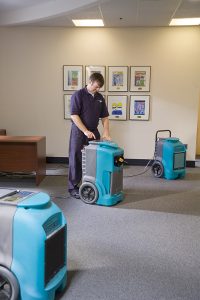 Water damage, whether from a flood or a leak, requires immediate attention because it can spread throughout a home or building and eventually lead to structural damage and mold growth.  Porous materials like wood, drywall, flooring, and furnishings absorb water and as these materials take on more water, they may become stained, warped, and rotted.
Without fast water mitigation services, water damaged building materials like wood and drywall will continue to weaken. This can quickly put the structural integrity of the home or building in jeopardy.
Mold is another major issue that occurs as a result of water damage because mold tends to grow in moist areas.  When mold appears, it will not only make the damage worse but also put your health at risk.
ServiceMaster by Timeless provides mold remediation alongside any water damage restoration project. Reacting quickly to water damage and calling our professionals will help prevent structural damage and the appearance of mold.
Professional Water Mitigation in Morristown, NJ
Our water restoration professionals at ServiceMaster by Timeless are ready to respond to all types of water damage situations including flooding and sewage backups.
Our IICRC certified technicians use advanced water extraction and drying equipment to ensure that all water and moisture is removed.  Using a combination of dehumidifiers and high-velocity air movers, we can effectively extract the moisture from furnishings, flooring, and porous building materials.  Once the water is removed, we will clean and restore the damaged areas.
Our water damage repair and restoration services in Morristown, NJ consist of the following:
Emergency water extraction
Content restoration and removal
Drying and dehumidification
Structural repair and restoration
Demolition
Debris removal
Mold remediation
Deep cleaning and sanitizing
Clothing restoration
Document restoration
Flood cleanup
Sewage cleanup
Water Damage Restoration Done Right in Morristown, NJ
Make sure you call our professionals at ServiceMaster by Timeless once you discover water damage in your home or building in Morristown, NJ.  Our technicians will arrive right away to contain and remove the water and start the restoration process to get your life back to normal.
We are available 24 hours a day at (973) 685-6117 for emergency water damage restoration.
---
Related Water Damage Restoration Services
Water restoration in Parsippany, NJ
Water damage restoration in Mount Olive, NJ
Water mitigation in Sparta, NJ
Water damage repairs in Millburn, NJ
Water damage mitigation in Randolph, NJ
Water restoration in Montville, NJ
Water damage restoration in Chatham, NJ
Water restoration in Jefferson, NJ
Water damage restoration in Rockaway, NJ
Water damage restoration in Bedminster, NJ
Water damage restoration in Bernardsville, NJ
Water damage restoration in Pequannock Township, NJ
Water damage restoration in Roxbury Township, NJ
---
Recent Reviews
Review by

M.L.
Rating

"Service Master responded to a water incident at my home on a Sunday evening. The company owner even responded to the initial assessment at 11pm. The company completed their tasks in efficient manner and timeframe. The company kept me informed throughout the process and on steps moving toward and working with my insurance company for a final resolution. The team manager, Matt, and owner, Bruce, were noth heavily invested in our project from start to completion."
---
Review by

V.C.
Rating

"We, FNT Solutions Inc., hired ServiceMaster by Timeless for a COVID-19 cleaning/sensitization . They did a great job thoroughly disinfecting our office space in preparation to return back to business. We would recommend ServiceMaster by Timeless to anyone."
---
Review by

A.B.
Rating

"We had a burst pipe and John and his crew were out to the house within a few hours. They immediately assessed the situation and brought in all of the supplies needed to clean up and dry out the basement. Michelle was very professional and responsive, keeping me in the loop with the insurance company and helping me to file my claim. I would highly recommend ServiceMaster by Timeless."