ServiceMaster by Timeless
Mold is a dangerous and often covert presence as it can grow just about anywhere in a home or building.  There is always a certain concentration of mold spores present in the air and when the spores find an area that presents it with moisture and an organic food source, mold growth will appear.  Without fast action from a disaster restoration company, mold can cause serious damage to the affected surfaces and materials and it is always at risk to spread.  The presence of mold is also hazardous to your health as exposure to mold can lead to a number of allergic reactions.
At ServiceMaster by Timeless, we provide complete mold removal services to eliminate all mold growth safely from homes and buildings in Morristown, NJ.  Our mold specialists are IICRC certified in mold remediation and use specialized equipment and technology to find and remove all mold growth.  We will also work with your insurance company on your claim.
Damage Caused by Mold in Morristown, NJ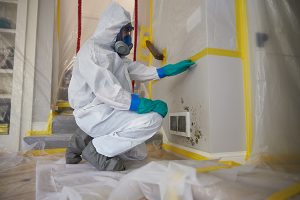 Mold tends to appear on wet or moist surfaces, and it prefers materials that can provide it with an organic food source such as wood, drywall, carpeting, insulation, wallpaper, and ceiling tiles.  It only takes 48 hours or less for mold to appear in water damaged areas and the mold will eat away at the affected surfaces, resulting in major damage.
This is just one reason why you should contact a water restoration service as soon as possible in cases of water damage.
If you do not have the mold removed right away, the damage it causes to the affected materials will get worse and the mold will spread further throughout the property.  Walls and ceilings that experience severe damage from mold will lose their structural integrity.
The other major issue with mold are the potential health issues it may cause.  Exposure to black mold and other varieties can result in coughing, trouble breathing, skin irritation, headaches, itchy eyes and throat, and nasal congestion.
More serious conditions like asthma and respiratory infections may occur with prolonged exposure if black mold removal services aren't contacted right away.
Professional Mold Removal in Morristown, NJ
Our mold specialists at ServiceMaster by Timeless are prepared to deal with all cases of mold growth.  We use infrared mold detection technology and specialized equipment and EPA-registered cleaning products to ensure all mold is removed from the affected surfaces.  We can also remove drywall, carpeting, and other materials that have been permanently damaged.
Our mold cleanup services in Morristown, NJ consist of the following steps:
Identify and address the source of the moisture
Find all mold growth with infrared mold detection technology
Create a mold remediation plan that includes the mold mitigation method, scope, and timeframe
The affected areas are isolated and damaged items and materials are removed under negative pressure containment to prevent the mold from spreading
Items and surfaces that can be salvaged are cleaned using EPA-registered cleaning products
Permanently damaged materials including drywall, carpeting, and furnishings are removed
The HVAC system will be evaluated and treated if necessary
Inspection to ensure all visible mold is removed
A third party will perform testing to ensure complete mold removal
Mold Removal Done Right in Morristown, NJ
If your home or business in Morristown, NJ is impacted by mold, call our mold specialists at ServiceMaster by Timeless right away for complete mold removal.
You can reach us 24 hours a day at (973) 685-6117 for emergency mold remediation services.
---
Related Mold Removal Services
Black mold removal in Parsippany, NJ
Mold remediation in Mount Olive, NJ
Mold abatement in Sparta, NJ
Mold removal in Millburn, NJ
Mold remediation in Randolph, NJ
Mold remediation in Chatham, NJ
Mold removal in Montville, NJ
Mold remediation in Jefferson, NJ
Mold removal in Rockaway, NJ
Mold remediation in Bedminster, NJ
Mold remediation in Bernardsville, NJ
---
Recent Reviews
Review by

M.L.
Rating

"Service Master responded to a water incident at my home on a Sunday evening. The company owner even responded to the initial assessment at 11pm. The company completed their tasks in efficient manner and timeframe. The company kept me informed throughout the process and on steps moving toward and working with my insurance company for a final resolution. The team manager, Matt, and owner, Bruce, were noth heavily invested in our project from start to completion."
---
Review by

V.C.
Rating

"We, FNT Solutions Inc., hired ServiceMaster by Timeless for a COVID-19 cleaning/sensitization . They did a great job thoroughly disinfecting our office space in preparation to return back to business. We would recommend ServiceMaster by Timeless to anyone."
---
Review by

A.B.
Rating

"We had a burst pipe and John and his crew were out to the house within a few hours. They immediately assessed the situation and brought in all of the supplies needed to clean up and dry out the basement. Michelle was very professional and responsive, keeping me in the loop with the insurance company and helping me to file my claim. I would highly recommend ServiceMaster by Timeless."