ServiceMaster by Timeless
Your home or building is always vulnerable to severe damage from a natural disaster.  Disasters like storms, floods, and fires can damage your furnishings and personal belongings, and they are also capable of causing severe structural damage that will require construction services to repair.  If a disaster causes severe exterior or structural damage to your home or building, it is important to have the damage repaired by a professional disaster restoration team right away.  This type of damage leaves your property vulnerable to further damage from outside elements and even collapse.
At ServiceMaster by Timeless, we are ready to help homes and businesses in Morristown, NJ that have experienced severe damage with our reconstruction services.  Our technicians can handle any construction project and fully rebuild your property after experiencing major damage.  We will cover everything including structural repairs, remodeling, and more.
Emergency Construction Services in Morristown, NJ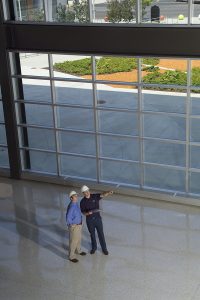 Major disasters like storms, fires, and even flooding can cause damage to the roofing, siding, windows, and structural core of a home or building.  When this type of damage occurs, the property is left open and vulnerable to further damage from wind, rain, animals, and other outside elements.  Damage to the structural core of the building is especially dangerous because an unstable structure is much more likely to collapse.
ServiceMaster by Timeless employs construction professionals and experts who can cover every aspect of damage repair, from simple construction to complete fire damage restoration.
When our construction professionals arrive to your property, they will start by stabilizing your home or building and boarding up any openings.  We will then thoroughly evaluate the damage to your property and form a construction plan to get the home or building fully rebuilt.  You can count on our staff to provide quality reconstruction and our project manager will keep you informed of our progress and answer your questions.
Our reconstruction services in Morristown, NJ include the following:
General contracting
Repair and restoration of woodwork
Framing and carpentry
Drywall removal and installation
Roof and siding repair
Painting, staining, and wallpapering
Construction and Reconstruction Done Right in Morristown, NJ
Make sure you contact our professionals at ServiceMaster by Timeless immediately if your home or building is heavily damaged in a disaster.  Our professionals will quickly arrive on the scene to stabilize your home or building and start the reconstruction process.
We are available 24 hours a day at (973) 685-6117 for emergency construction services in Morristown, NJ.
---
Related Reconstruction Services
Reconstruction services in Parsippany, NJ
Construction and reconstruction services in Mount Olive, NJ
Reconstruction company in Sparta, NJ
Reconstruction services in Millburn, NJ
Reconstruction company in Randolph, NJ
Construction contractors in Montville, NJ
Construction contractors in Chatham, NJ
Construction contractors in Jefferson, NJ
Construction contractors in Rockaway, NJ
Reconstruction services in Bedminster, NJ
Reconstruction services in Wayne, NJ
---
Recent Reviews
Review by

M.L.
Rating

"Service Master responded to a water incident at my home on a Sunday evening. The company owner even responded to the initial assessment at 11pm. The company completed their tasks in efficient manner and timeframe. The company kept me informed throughout the process and on steps moving toward and working with my insurance company for a final resolution. The team manager, Matt, and owner, Bruce, were noth heavily invested in our project from start to completion."
---
Review by

V.C.
Rating

"We, FNT Solutions Inc., hired ServiceMaster by Timeless for a COVID-19 cleaning/sensitization . They did a great job thoroughly disinfecting our office space in preparation to return back to business. We would recommend ServiceMaster by Timeless to anyone."
---
Review by

A.B.
Rating

"We had a burst pipe and John and his crew were out to the house within a few hours. They immediately assessed the situation and brought in all of the supplies needed to clean up and dry out the basement. Michelle was very professional and responsive, keeping me in the loop with the insurance company and helping me to file my claim. I would highly recommend ServiceMaster by Timeless."