ServiceMaster by Timeless
If a fire occurs in your home or building, the effects can be devastating.  Fires cause extensive damage to your property and put those within in immediate danger.  It is important to evacuate the building and have the fire put out as quickly as possible, but the damage will not stop.  Soot and smoke will linger after the fire and cause damage and the water used to extinguish the fire can also add to the damage.  You must begin the disaster restoration of your property as soon as the fire is out to prevent further damage.
At ServiceMaster by Timeless, we provide complete fire damage restoration services to help homes and businesses rebuild after a fire in Morristown, NJ.  Our technicians are highly trained and equipped to handle every aspect of the fire cleanup including structural repairs, smoke and soot damage cleaning, content restoration, and odor removal.  We will also work with your insurance company to help with your claim during the fire restoration process.
Damage Caused by Fire and Smoke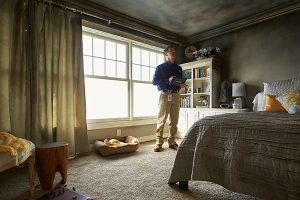 Fire and smoke can cause serious structural damage to homes and buildings as well as damage to furnishings and other personal content.  The damage caused by the flames is immediate as the fire burns all furnishings and structural materials in its path.  Affected homes and buildings are commonly left structurally unstable after a major fire.
Putting out the fire will not end the spread of the damage as smoke, soot, and other corrosive byproducts created by the fire will remain on the property.  Smoke and soot can continue to etch and tarnish affected surfaces and materials long after the fire is out.
The damage will become permanent without quick and effective cleaning and reconstruction services.  In many cases, more damage is caused by the smoke and soot than the fire.
The other major problem with fire and smoke is that they leave behind a strong odor.  Smoke odor is hard to get rid of because the odor particles get trapped in porous building materials and furnishings.  Only advanced deodorization methods can effectively extract these odors from the affected materials.
Professional Fire Damage Cleanup and Repair in Morristown, NJ
Our fire restoration technicians react quickly to fire damage emergencies to limit the spread of the damage and begin the restoration.  We provide comprehensive fire damage restoration services that cover everything from structural repairs to content cleaning and odor removal.
We use specialized cleaning equipment and methods to reverse the effects of soot damage and remove smoke odors.  Our professionals will keep you informed through every step of the process and work diligently to get your property restored.
Our fire damage restoration services in Morristown, NJ may consist of the following:
Evaluation of the extent of the damage and the source of the fire
Structural stabilization and repair
Removal of permanently damaged building materials and objects
Content cleaning and restoration including restoration of textiles and sensitive materials
Restoration of water damage caused when putting out the fire
Repair or removal of carpet and floor coverings
Smoke odor removal
Cleaning and restoration of surfaces and objects affected by soot, smoke, and other corrosive byproducts
Fire Restoration Done Right in Morristown, NJ
You should not hesitate to call a reputable fire restoration company like ServiceMaster by Timeless as soon as a fire on your property is put out.  Our technicians will immediately stop the spread of the damage and begin thorough fire damage repairs to return your home or building to its previous condition.
You can reach us 24 hours a day at (973) 685-6117 for emergency fire damage restoration in Morristown, NJ.
---
Related Fire Damage Restoration Services
Fire restoration in Parsippany, NJ
Fire damage restoration in Mount Olive, NJ
Fire damage repair services in Sparta, NJ
Fire restoration in Millburn, NJ
Fire damage restoration in Randolph, NJ
Fire restoration in Montville, NJ
Fire damage restoration in Chatham, NJ
Fire restoration in Jefferson, NJ
Fire damage restoration in Rockaway, NJ
Fire damage restoration in Bedminster, NJ
Fire restoration in Bernardsville, NJ
---
Recent Reviews
Review by

M.L.
Rating

"Service Master responded to a water incident at my home on a Sunday evening. The company owner even responded to the initial assessment at 11pm. The company completed their tasks in efficient manner and timeframe. The company kept me informed throughout the process and on steps moving toward and working with my insurance company for a final resolution. The team manager, Matt, and owner, Bruce, were noth heavily invested in our project from start to completion."
---
Review by

V.C.
Rating

"We, FNT Solutions Inc., hired ServiceMaster by Timeless for a COVID-19 cleaning/sensitization . They did a great job thoroughly disinfecting our office space in preparation to return back to business. We would recommend ServiceMaster by Timeless to anyone."
---
Review by

A.B.
Rating

"We had a burst pipe and John and his crew were out to the house within a few hours. They immediately assessed the situation and brought in all of the supplies needed to clean up and dry out the basement. Michelle was very professional and responsive, keeping me in the loop with the insurance company and helping me to file my claim. I would highly recommend ServiceMaster by Timeless."