ServiceMaster by Timeless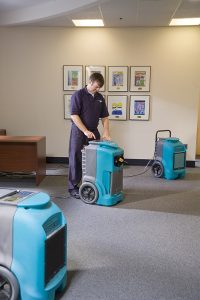 A bad rainstorm can cause major leakage in your ceiling or rooftop, or even a basement flood. Similarly, a sump pump backup, appliance leak, or pipe burst can quickly cause extensive water damage throughout your home or business. If you suffer from an event of water damage, contact a disaster restoration service as soon as you can to get the water cleaned up and the affected property treated.
ServiceMaster by Timeless provides water damage restoration in Roxbury Township, NJ. We are an IICRC-certified water restoration firm and available 24/7 to respond to water damage emergencies. Our flood cleanup technicians will arrive quickly to extract water, dry and dehumidify the affected area, and restore the property to original condition.
You can expect the following steps as part of our water restoration services in Roxbury Township, NJ:
24/7 availability: We respond quickly to water damage emergencies any time and any day of the week.
Flood cleanup: Complete extraction of standing water and floodwater from the property
Dehumidification: The affected area will be fully dried and all traces of moisture will be removed
Mold Remediation: Cleaning products will be used to treat the affected area to prevent mold
Water Damage Repairs: Structural restoration of damaged building materials, as well as content restoration.
Contact Us for Water Damage Restoration in Roxbury, NJ
If you experience a basement flood, ceiling or roof leak, sump pump overflow or other event of water damage, contact a water extraction service right away.
ServiceMaster by Timeless is available 24/7 at (973) 685-6117 to provide water damage restoration services in the Roxbury Township, NJ area.
---
Recent Reviews
Review by

M.L.
Rating

"Service Master responded to a water incident at my home on a Sunday evening. The company owner even responded to the initial assessment at 11pm. The company completed their tasks in efficient manner and timeframe. The company kept me informed throughout the process and on steps moving toward and working with my insurance company for a final resolution. The team manager, Matt, and owner, Bruce, were noth heavily invested in our project from start to completion."
---
Review by

V.C.
Rating

"We, FNT Solutions Inc., hired ServiceMaster by Timeless for a COVID-19 cleaning/sensitization . They did a great job thoroughly disinfecting our office space in preparation to return back to business. We would recommend ServiceMaster by Timeless to anyone."
---
Review by

A.B.
Rating

"We had a burst pipe and John and his crew were out to the house within a few hours. They immediately assessed the situation and brought in all of the supplies needed to clean up and dry out the basement. Michelle was very professional and responsive, keeping me in the loop with the insurance company and helping me to file my claim. I would highly recommend ServiceMaster by Timeless."