Excessive water damage and indoor flooding can lead to some very serious issues in a home or building. Water gets absorbed quickly by furnishings and building materials which causes the water damage to spread, leading to possible structural issues and mold. If the water in your home contains sewage, the situation is much more urgent and dangerous. The waste materials contained in the sewage water will cause more damage quicker and also pose a serious risk to your health. When a sewage backup occurs, you must avoid contact with the water and immediately call a licensed professional for cleanup.
ServiceMaster SDC is licensed and equipped to provide sewage cleaning services for homes and businesses in Duluth, MN. We can not only deal with the water and the resulting damage, but also the dangerous materials in the sewage. The sewage water will be removed safely and all affected areas will be thoroughly cleaned and restored to eliminate the risk of negative health effects.
Dangers of Sewage Backups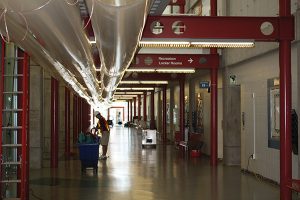 If you even suspect that there may be sewage mixed in with the water in your home, avoid contact with the water. Sewage can enter your home if there is a sewage backup in which it comes up through the drains, or if flooding from the outside enters your home already mixed with sewage. The presence of sewage on your property can lead to the following issues:
Water Damage: Sewage water gets absorbed into porous building materials just like clean water but the dirt and waste materials in the water make the damage much worse. The affected materials risk permanent damage because of the contaminants in sewage water and there is always a risk for mold growth. We can treat the water damage caused by sewage and restore the damaged materials.
Health Risks: The biggest threat from sewage is the threat to your health. Sewage water consists of harmful materials like viruses and bacteria that easily spread infection and disease. Staying clear of the sewage water will reduce your risk of health issues.
Complete Sewage Cleaning
You can trust our technicians to show up with the proper equipment and cleaning products to remove sewage water and clean and disinfect the affected areas. We will put your home or building through the same drying and dehumidification process as in any other case of water damage and ensure that all dangerous materials have been effectively removed. Our thorough disinfection of the area will reduce the risk of infection or disease and make the area safe to use again. You must call us quickly though because the damage and risk of negative health effects will increase until the sewage water is effectively removed.
If there is sewage water on your property in Duluth, MN, contact ServiceMaster SDC right away for professional sewage backup cleaning. Our technicians will arrive quickly to begin the removal of the sewage and start the cleanup and sanitization of your property. You can reach us 24 hours a day at (218) 461-4434 for emergency sewage cleaning.
---
Superior, WI Services
---
Review by L.D. – Superior, WI
Water Damage Restoration
Rating

"Had a water loss on Sunday, and you responded right away. I was very appreciative and wanted to make sure I thanked everyone involved. I could not have done myself, and am glad you have on-call people."
---
Review by G.B. – Saginaw, MN
Sewage Damage Cleanup
Rating

"I had a sewage back up in my home. I am impressed with your response time, what you did, and the communication. My son enjoyed working with you. Thanks for all of your help."