Dryco Restoration Services
People who live and work in the Duluth, MN area know that the winters in Duluth can be brutal with cold temperatures, snow, and ice. The accumulation of snow and ice on your roof already presents problems as the weight can damage the roofing and gutters, but there is also a risk of ice dams forming. As winter temperatures fluctuate between below and above freezing, ice and snow that has accumulated on your roof will melt and refreeze. This causes ice and icicles to form on the edge of your roof, also known as an ice dam. Ice dams put a lot of stress on your gutters and roofing, which can lead to damage, and they also prevent melting ice and snow from properly draining off the roof, thus contributing to water damage.
Dryco Restoration Services provides ice dam removal services in Duluth, MN to safely remove ice dams from homes and commercial buildings. We use state-of-the-art steam machines to remove built up ice and snow from your roof without causing any damage. If the water from the ice dam has already leaked into your home, we can also provide water damage restoration to address the damage.
How do Ice Dams Form?
Ice dams form when snow and ice on the roof melt and refreeze at the edge of the roof, forming a ridge of ice that does not allow melting snow to properly drain. The main cause of ice dams is poor insulation or ventilation of the attic that results in inconsistent roof temperatures.
If the attic is not properly ventilated, heat from the home will escape to the roof, causing the ice and snow on the roof to melt. The water will then move to the edge of the roof where there is no heat escaping and refreeze. As more melted ice and snow reach the ice dam, the dam grows in size, putting pressure on the roof and causing the melted ice and snow to pool.
Damage Caused by Ice Dams
The weight of the ice dam and accumulation of water on your roof can cause the following problems:
Damage to the gutters and roof from the weight of the ice
Leaks in the roof as the water continues to pool
Water damage of walls and ceilings as the water seeps inside
Mold or mildew growth as a result of the water damage
Roof Ice Dam Prevention
There is no escape from the winter conditions that can cause ice dams in the Duluth, MN area, but you can take the following steps to prevent the ice dams on your roof from occurring:
Seal air leaks: Make sure there are no air leaks between your home and the attic. Any air leaks should be located and sealed to keep the warm air from entering the attic.
Insulate the roof: Proper insulation of the roof will also help keep the heat inside your home so it doesn't affect the temperature of the roof.
Ensure proper ventilation: Natural roof ventilation is the most effective type of ventilation for ensuring a uniform roof temperature.
Remove snow from the roof: After it snows, you should remove as much snow as possible from your roof. Using a roof rake will allow you to do this from the ground, as climbing on your roof can be very dangerous when it is covered in ice and snow.
Make a channel in the ice: If an ice dam has formed, you can make a channel in the ice by melting a path using water from a garden hose. This will allow the water to drain, but only temporarily. You should only attempt this in an emergency.
Ice Dam Solutions from Dryco
Our technicians will remove ice dams efficiently from your roof using advanced steam machines. These machines use high temperature steam to melt the ice and snow so that it drains from your roof without causing damage to the shingles or gutters. This process uses low pressure and very little water to prevent additional damage to your property.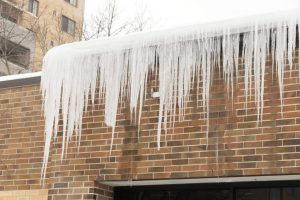 We have been specially trained to properly steam your roof with this equipment, and we will also check your property for structural damage and water issues. If the ice dam did cause damage or a water leak in your home, we can address that with our water damage restoration services.
Call Dryco Restoration Services for Ice Dam Removal
If an ice dam forms on your home or building in Duluth, MN, call Dryco Restoration Services right away for fast and efficient ice dam removal. Our technicians will ensure that all ice and snow is removed with our advanced steam machines.  You can reach us at (218) 461-4434 for professional ice dam removal.
---
Related Ice Dam Removal Services:
Ice Dam Removal Services in Cloquet, MN
---
Review by Steven R.
Water Damage Restoration
Rating

"We discovered water damage at our home on a Friday evening. Within a short time that evening Dryco had a full team at my home taking care of a very miserable situation. Extremely helpful from removal, through the insurance process, to repair."
---
Review by Megan C
Smoke Damage Removal
Rating

"A fire caused extensive smoke damage in my salon, and on blind faith, I chose Dryco-they were the first available. I couldn't be happier with the end result! They were great to work with through our the entire process, helped me to navigate the insurance claim, and restored my business to a "better than before" state! I've worked with other disaster clean up companies, and would choose to work with Dryco a million times over!"
---
Review by Christy Husby
Flood Damage Restoration
Rating

"Highly recommended. Damien & Logan are professional & knowledgeable, and very responsive. Dealing with a stressful home flooding situation & they provided options, recommendations, and are working with our insurance. It's day 2 of our unexpected water damage and thanks to Dryco although the situation is stressful, I am confident the house will be okay."