Dryco Restoration Services
Whether you know it or not, there are a handful of biohazard materials that you may encounter in your daily life. A biohazard material is a substance that contains harmful toxins that can spread illness or infection to those of whom it exposes. The most common biohazard materials that you may encounter include bodily fluids, like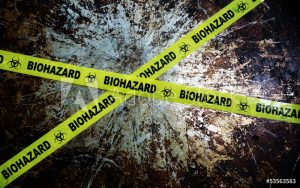 blood and tissues, as well as other dangerous materials like sewage, mold, and chemicals. When you encounter these types of materials, you need to stay clear of them and call a professional to clean them up. If you encounter biohazard materials at the scene of a major accident or violent crime, you must call 911 first, and then a licensed professional for cleanup.
Dryco Restoration Services provides biohazard cleaning services in Duluth, MN to safely remove all types of dangerous biohazard materials. Our technicians can not only remove biohazard materials and ensure safe disposal, but also disinfect the entire scene to reduce the risk of negative health effects. In cases of accidents, we always take a respectful approach. We will also work with law enforcement.
Biohazard Materials
It is important to be aware of the different types of biohazard materials you may encounter, as well as the danger of exposure. Biohazard materials potentially contain viruses, bacteria, and other dangerous elements. These elements will quickly spread infection and disease if they are not handled properly. Biological waste from humans and animals, sewage, mold, and substances containing dangerous chemicals are the most common types of biohazard materials you may come across. If you suspect that you are dealing with biohazard materials, it is best to keep your distance, and leave such dangerous substances to the professionals.
Complete Biohazard Cleaning in Duluth, MN
Our technicians at Dryco Restoration Services are licensed, bonded, and insured to cleanup any type of biohazard materials. We have the proper training and equipment to do it safely. We use advanced cleaning products and disinfectants to ensure that the area is safe to use again. Our complete biohazard cleaning services in Duluth, MN consist of the following steps: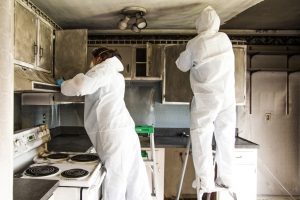 Decontamination: We will thoroughly decontaminate the scene once the biohazard materials have been removed.
Proper Disposal: We transport all biohazard materials to a licensed medical waste facility for proper disposal.
Deodorization: We will make sure any lingering odors are eliminated with our effective deodorization process.
Continuous Monitoring: We constantly monitor our work to make sure it is done quickly and discreetly to protect your privacy.
Certified Technicians: Our technicians are highly trained and certified to safely handle the removal of biohazard materials in compliance with local and state government regulations.
If you should face biohazard materials of any kind, make sure you keep your distance for your protection. Once you are safe, then call our professionals to clean and disinfect the area. Dryco Restoration Services is ready to provide biohazard cleaning in any scenario in the Duluth, MN area.  Call us 24 hours a day at (218) 461-4434, for emergency biohazard cleaning.
---
Related Biohazard Cleaning Services:
---
Review by Steven R.
Water Damage Restoration
Rating

"We discovered water damage at our home on a Friday evening. Within a short time that evening Dryco had a full team at my home taking care of a very miserable situation. Extremely helpful from removal, through the insurance process, to repair."
---
Review by Megan C
Smoke Damage Removal
Rating

"A fire caused extensive smoke damage in my salon, and on blind faith, I chose Dryco-they were the first available. I couldn't be happier with the end result! They were great to work with through our the entire process, helped me to navigate the insurance claim, and restored my business to a "better than before" state! I've worked with other disaster clean up companies, and would choose to work with Dryco a million times over!"
---
Review by Christy Husby
Flood Damage Restoration
Rating

"Highly recommended. Damien & Logan are professional & knowledgeable, and very responsive. Dealing with a stressful home flooding situation & they provided options, recommendations, and are working with our insurance. It's day 2 of our unexpected water damage and thanks to Dryco although the situation is stressful, I am confident the house will be okay."