Every area of the U.S. deals with different types severe weather and the Duluth, MN area is no stranger to its own brand of inclement weather.  The northeast Minnesota region experiences thunderstorms, blizzards, and strong winds, but perhaps the most dangerous weather condition we can experience is tornadoes.  Tornadoes consist of very dangerous winds that can damage vehicles and buildings, knock over trees and utility poles, and throw large objects like vehicles and other debris through the air.  It is very important for you to have your property prepared for the possibility of a tornado and know where you can take shelter if a tornado is imminent.
ServiceMaster SDC provides tornado damage repair services to help homes and businesses in Duluth, MN recover after a tornado.  Our technicians can effectively stabilize and repair serious structural damage caused by a tornado and provide water damage restoration if needed.  It is important to call for storm damage restoration immediately because structural damage will only get worse until the repairs are done.
Dangers of a Tornado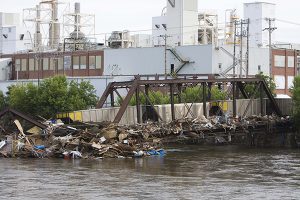 In Minnesota, a tornado is most likely to strike in the months of May, June, or July.  However, residents should be prepared for the possibility from the early spring through the fall season.  Tornadoes may be accompanied by rain and hail when they occur, but the most damaging element is the wind.  The winds of a tornado are powerful enough to damage the exterior of a home or building and knock over heavy objects like trees and powerlines that will cause even more damage if they land on buildings and vehicles.  Downed powerlines also present a danger as walking near them increases your risk of an electric shock.  If a tornado is followed by rain, there is a high risk of water damage, especially in homes and buildings damaged by the storm.
After the tornado has cleared and the weather is safe, you must carefully check your property for damage.  If you have experienced heavy damage to your home or building, contact ServiceMaster SDC immediately.  Homes and buildings that have experienced extensive storm damage need to be stabilized immediately because they are vulnerable to further damage or collapse.  Once the building is stabilized, it can then be repaired with a much lower risk of collapse or additional damage.
Our tornado damage repair services consist of the following:
Emergency Board Ups: Our technicians can board up the building to cover extensive damage and stabilize its structural core.
Tarping: If the roof is heavily damaged, we will cover it with tarp to protect the inside of the building from outside elements like rain.
Debris Removal: Tornadoes make a huge mess of debris. We will remove all debris from your property including building materials, tree branches, and broken glass.
Reconstruction: We will fully repair the structural damage to your home or building to get it back to its previous condition.
Water Damage Restoration: If your property sustained water damage during the tornado from rain or some other factor, we can remove the water and restore the damaged areas.
Natural Disaster Safety – Tornado Shelter Tips – ServiceMaster Restore Video
Do you know what to do when a tornado strikes? Take shelter and follow the tips mentioned in this video.
Tornadoes are extremely dangerous storms that can occur anytime throughout tornado season in Minnesota.  You must make sure your home or business is prepared for the possibility so you can protect your property from damage.  If you do experience property damage from a hurricane, make sure you call ServiceMaster SDC immediately for tornado damage repair.  We are available 24 hours a day at (218) 461-4434 for emergency repair and restoration in Duluth, MN.
---
Superior, WI Services
---
Review by L.D. – Superior, WI
Water Damage Restoration
Rating

"Had a water loss on Sunday, and you responded right away. I was very appreciative and wanted to make sure I thanked everyone involved. I could not have done myself, and am glad you have on-call people."
---
Review by G.B. – Saginaw, MN
Sewage Damage Cleanup
Rating

"I had a sewage back up in my home. I am impressed with your response time, what you did, and the communication. My son enjoyed working with you. Thanks for all of your help."