The effects of a fire can be very damaging to a home or business, but the corrosive byproducts it creates such as smoke and soot can cause even more damage.  After a fire is put out, smoke and soot spread through the property, reaching areas that the fire did not, and settle on objects and materials.  The affected materials quickly become discolored and may experience burning and etching that will become permanent.  Soot and smoke damage commonly occurs as a result of a fire, but it can also be caused by smoking, cooking, or candles without a legitimate fire.
Most materials affected by smoke and soot are in danger of permanent damage which is why it is important to have the damage restored immediately.  At ServiceMaster SDC, we provide smoke damage and odor removal services in Duluth, MN to restore damage caused by smoke and soot.  We can salvage objects affected by soot with our proven cleaning methods and we also use advanced technologies to remove odors from smoke.
Damage from Smoke and Soot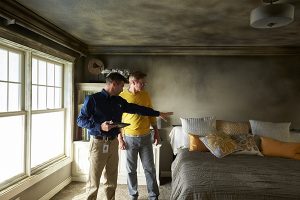 When a fire is put out, the flames may be gone but the smoke, soot, and other corrosive byproducts remain.  These acidic elements are very damaging and they will continue to spread throughout the property until the restoration can take place.  Soot can burn and tarnish any material it lands on and smoke creates an oily residue that can also cause significant damage.  We can clean and restore many household surfaces and objects using powerful cleaning agents and we can completely salvage many affected materials if the cleaning process begins quickly.
Smoke Deodorization
While smoke can create a residue that causes surface damage, the biggest problem with smoke is the odor it leaves behind.  Smoke odors get absorbed and trapped in porous building materials and objects which makes the odor very persistent.  Our technicians use advanced technologies and deodorization methods including hydroxyl deodorization and thermal fogging to fully extract smoke odors from affected materials.  Our smoke deodorization services consist of the following:
Treatment of the source of the odor
Deodorization of affected materials
Air washing and air space treatment
Sealing of porous surfaces
The effects of smoke and soot can become widespread and severe if you do not react quickly to resolve the issue.  ServiceMaster SDC can clean and restore objects damaged by soot and effectively remove lingering smoke odors with our smoke damage cleanup and odor removal services.  Give us a call at (218) 461-4434 if your home or business in Duluth, MN is affected by smoke or soot from a fire or other incident.
Fire Damage – What Service Is Provided – ServiceMaster Restore Video
In the event of a fire, ServiceMaster Restore is here for you. We are equipped to help with different types of fires whether it be a protein fire or a natural fire.
---
Superior, WI Services
---
Review by L.D. – Superior, WI
Water Damage Restoration
Rating

"Had a water loss on Sunday, and you responded right away. I was very appreciative and wanted to make sure I thanked everyone involved. I could not have done myself, and am glad you have on-call people."
---
Review by G.B. – Saginaw, MN
Sewage Damage Cleanup
Rating

"I had a sewage back up in my home. I am impressed with your response time, what you did, and the communication. My son enjoyed working with you. Thanks for all of your help."