Dryco Restoration Services
Fires can be among the scariest types of disasters because of their potential to quickly consume everything in their path and threaten the lives of everyone on the property. During a fire, the flames and smoke will spread throughout the home, putting everyone and everything at risk. Causing corrosive, sometimes irreparable damage, the disaster can continue long after the flames are out.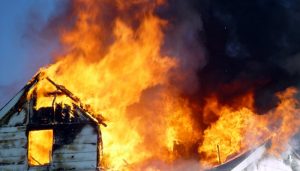 The smoke produced from the burning combustible materials will permeate through the property, covering everything in a thick, oily residue that requires professional products to remove. This is why it's crucial to call for professional restoration services right away.
Dryco Restoration Services provides emergency fire damage restoration services in Cloquet, MN and the surrounding areas to quickly remove all soot and smoke damage before it becomes permanent. Each of our technicians is licensed and experienced in Smoke and Fire Damage Restoration as well as Odor Control to have your property efficiently restored to its original condition. We address everything from damage caused by the flames to the lingering smoke odors.
Dealing with Fire and Smoke Damage
During property fires, the damage will quickly consume all building materials and contents in its path. The burning materials will be charred, creating corrosive byproducts including oily residue and soot. Even after the flames are extinguished, the smoke and soot byproducts will spread throughout the rest of the home, covering the remaining materials which will cause additional damage.
If left alone, the layer of soot will cause etching and tarnishing, compromising the structural makeup of the material. Without quick action, these materials can be permanently damaged.
Fire Damage Repair 
When called right away, our licensed and trained technicians at Dryco Restoration Services will respond right away to provide effective fire damage repair. This includes the complete restoration of structural damage, smoke and soot removal, and deodorization.
When addressing smoke damage, we always use the industry's latest equipment to provide the best results, including HEPA air scrubbers, dry ice blasting, ozone and hydroxyl generators, as well as thermal fogging to remove the remaining corrosive byproducts from the affected surfaces. After our services, we will ensure that your property is fully returned to a clean and healthy environment.
Our fire damage restoration services include each of the following:
24/7 availability and emergency response
Assessment of the damage and development of restoration plan
Corrosion mitigation
Board up and tarping
Content restoration and pack outs
Temporary electricity and heating
Removal of hazardous debris
Deodorization
Restoration of structural damage
Following a fire, you can trust that our technicians will have everything restored to its original condition. This includes the building materials, appliances, furnishings, and personal items. Our technicians will have them taken care of and remove any lingering smoke odors.
Emergency Response
Dryco Restoration Services is available 24/7 at (218) 461-4434 in Cloquet, MN and the surrounding areas to provide complete fire damage restoration services for homes and buildings.
---
Related Fire Damage Restoration Services
Fire Damage Restoration in Duluth, MN
Fire Damage Restoration in Superior, WI
---
Review by Steven R.
Water Damage Restoration
Rating

"We discovered water damage at our home on a Friday evening. Within a short time that evening Dryco had a full team at my home taking care of a very miserable situation. Extremely helpful from removal, through the insurance process, to repair."
---
Review by Megan C
Smoke Damage Removal
Rating

"A fire caused extensive smoke damage in my salon, and on blind faith, I chose Dryco-they were the first available. I couldn't be happier with the end result! They were great to work with through our the entire process, helped me to navigate the insurance claim, and restored my business to a "better than before" state! I've worked with other disaster clean up companies, and would choose to work with Dryco a million times over!"
---
Review by Christy Husby
Flood Damage Restoration
Rating

"Highly recommended. Damien & Logan are professional & knowledgeable, and very responsive. Dealing with a stressful home flooding situation & they provided options, recommendations, and are working with our insurance. It's day 2 of our unexpected water damage and thanks to Dryco although the situation is stressful, I am confident the house will be okay."