RestorationMaster
Unfortunately, mold growth is a common problem within buildings in both commercial and residential settings. This is because mold does not need much to originally take hold, and it spreads rapidly once it does. It can have adverse effects on the structural integrity of your property, as well as your health. RestorationMaster offers full mold removal services to home and business owners in the Middletown, NJ, area.
How Mold Behaves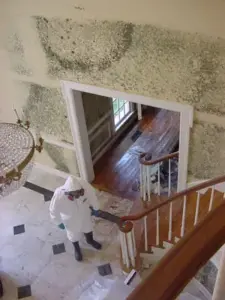 The primary reasons why mold can so easily and effectively take hold and spread throughout your property are simple, but very difficult to address preemptively. First, all mold needs in order to grow is an organic food source and excess moisture. This may sound trivial, but the vast majority of homes and offices are constructed with materials that mold can feed on (they include insulation, wood, drywall, and more). The specific source is the cellulose within these materials. This means that the factor most in your control is excess moisture. Second, mold releases its spores regularly, and especially when contacted. Essentially, if you see or smell mold on your property, it pays to bring in professionals.
While mold can grow almost anywhere, there are several common locations to note.
Our experts have compiled the following list:
Under bathroom and kitchen sinks
In basements, attics, and crawl spaces (in large part due to poor ventilation and leaks)
Behind toilets and refrigerators
Under wet carpets
Within walls that contain plumbing
Around air conditioning units
While mold may seem like a simple nuisance, it can actually be quite dangerous to those exposed to it on a regular basis. Close contact with mold and its spores has been linked to allergic reactions, respiratory infections, and other health complications. It can even eat away at structural elements of your building, as we alluded to above.
Mold Remediation and Removal in Middletown, NJ – Watch Our RestorationMaster Video:
For mold removal and remediation services in Middletown, NJ, contact RestorationMaster at (973) 306-0963. 
RestorationMaster Mold Remediation Services
Our technicians here at RestorationMaster are highly trained and experienced when it comes to eliminating mold. We make use of industry-best mold removal equipment and methodologies, as well as sanitization solutions. If you are interested in taking advantage of our services, the bullet points below will give you a good idea of what to expect:
Availability at any hour, and a swift response
Pinpointing of all affected areas through our initial inspection
Containment of the mold to reduce the risk of it spreading while we treat your property
Full mold removal services
Restoration of affected areas and personal belongings
Deodorization services
Contact Us for Mold Removal and Remediation Services in Middletown, NJ
If you see or suspect that mold is growing on your property, then we encourage you to contact our RestorationMaster representatives to utilize our mold removal services. We are available 24 hours a day, and can be reached at (973) 306-0963. We work with home and business owners in and around Middletown, NJ, and look forward to assisting you soon.
---
Related Mold Removal Services
Mold Removal and Remediation in Brick, NJ
Mold Removal in Manahawkin, NJ
Mold Removal and Remediation in Manasquan, NJ
Mold Removal in Ocean City and Egg Harbor Twp, NJ
Mold Removal for Toms River, NJ
Mold Remediation for Wildwood, NJ
Certified Mold Technicians in Newburgh, NY
Mold & Mildew Cleaning Professionals Middletown, NY
Mold Remediation Company in Ramsey, NJ
Mold Cleaning Team in Mahwah, NJ
Mold Remediation Technician in Wycoff, NJ
Mold Removal Professionals in Trenton, NJ
Mold Inspection and Remediation Team in East Windsor, NJ
Trusted Mold Removal Experts in West Windsor, NJ
Mold, Fire, Water Restoration Company in Hamilton Township, NJ