RestorationMaster
Mold growth can cause major damage to your home or business. It usually appears due to water damage and can spread very quickly causing additional damage to your property. Exposure to mold can also create health issues for you and your family. If you have a mold issue, you need to remediate it right away so that it does not spread further.
RestorationMaster offers mold remediation services to homes and businesses in West Windsor, NJ, and the surrounding areas. Our technicians are highly trained and certified to handle any type of mold remediation at your property. Whether the mold growth was caused by a flood or leaky appliance, we can help you get rid of it and restore any damaged materials.
Mold Growth
Mold is a type of fungus that grows in places with high humidity, such as cellars and bathrooms. Mold grows in damp, dark areas and spreads through common air-borne spores. Mold growth in your home is also a common problem after water damage. Mold spores are everywhere indoors and outdoors, and even if you don't see or smell mold, it's still there.  Common sources of mold include old houses with leaking roofs, bathrooms with poor ventilation, pipes, or water damage near a wall. These places must have enough moisture to allow mold to grow but also enough air circulation so mold spores can travel through the air to other locations. In addition, the temperature must be within a certain range for mold growth to occur.
Damage Caused by Mold
Mold is usually present in areas that have water damage due to extra moisture because mold spores thrive with a source of moisture. They land on surfaces that contain an organic food source and the damage they cause to materials like wood and drywall includes discoloration and even structural damage.
Mold growth can negatively affect your health. When someone is exposed to mold growth, they can experience allergic reactions such as coughing, sneezing, skin irritation, and much more. Prolonged exposure to mold can cause more serious respiratory infections. Therefore, it is important to react to mold very quickly and get it removed by professionals. RestorationMaster is available 24 hours a day, 7 days a week. .
Watch RestorationMaster Video for more information on Mold Remediation Services
Professional Mold Remediation in West Windsor, NJ
RestorationMaster well send our highly qualified and licensed technicians to your property. We are equipped with hi-tech equipment so we can quickly remove mold from homes and businesses.  Our first step is to locate and contain the mold and stop its spread. The next step is to create a restoration plan and implement it to fully remove mold growth and restore your property. We will make sure we restore your property back to its original state.
Our mold remediation services in West Windsor, NJ include:
Moisture source repair: We locate and repair the source of moisture that caused the mold growth so we can ensure it does not come back.
Mold removal: All mold growth will be removed as well as any materials that have been permanently damaged.
Deodorization, cleaning, and disinfection: Any bad odors will be removed, and we will complete a deodorization process to ensure your property is clean and disinfected to prevent future mold growth.
Restoration and rebuild: Any damaged areas will be restored and rebuilt.
Mold Removal
The primary objective of a mold remediation job is to remove mold, clean and deodorize the affected area and clean up any spills that may have occurred during the removal process. It is important to know right away if you can do a DIY mold remediation job or if it would be better to hire a professional.
When building materials are damaged, moisture can become trapped inside. The mold spores from this moisture spread throughout the area contaminating other surfaces and materials. We have the expertise to remove the mold, clean, deodorize and disinfect the area and rebuild it to its original state.
RestorationMaster is fast, experienced, and dependable. Our team of highly trained technicians will be there 24/7 to answer your call and quickly restore your home or business safely and efficiently. We have over 100,000 satisfied customers
Call RestorationMaster Now for Mold Remediation in West Windsor, NJ
Mold growth requires you to react quickly and get the mold remediated right away so that it does not cause additional damage. Our highly skilled professionals at RestorationMaster will get rid of any mold growth at your home or business.
RestorationMaster is available 24/7 for all your mold remediation needs in West Windsor, NJ. We can be reached at (609) 900-7686.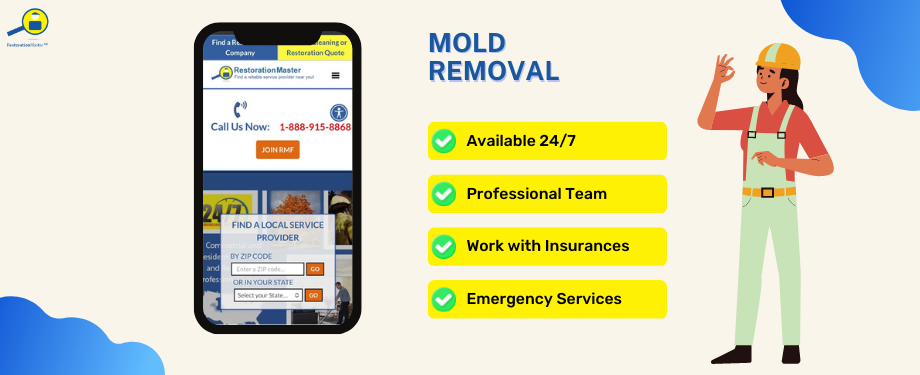 ---
Related Mold Remediation Services near West Windsor, NJ
Mold Removal Professionals in Princeton, NJ
Mold Inspection and Remediation Team in Trenton, NJ
Trusted Mold Removal Experts in East Windsor, NJ
Mold, Fire, Water Restoration Company in Hamilton Township, NJ