If you've encountered a severe accident or a violent crime within your home or business, it can be a stressful experience. It is crucial to call the proper authorities so they can take the right action and protect your health. When it comes to crime scenes, it is important to contact law enforcement so they can do their work first. After that, you can call a specialized biohazard cleaning service. This is because these types of scenes usually contain biohazard materials such as blood and can spread disease and cause infections. RestorationMaster offers biohazard cleaning services in West Windsor, NJ, and the surrounding areas. We have the proper training and equipment to handle the dangerous biohazard materials so we can protect yours and your family's health.
It is important to reach out to a professional biohazard cleaning company to properly clean your space when there is a trauma scene. This is because pathogens and bacteria can be present in blood and bodily fluids and exposure to these dangerous materials puts you at risk of infection or disease.
At RestorationMaster, our technicians are IICRC certified, have the proper training and equipment to handle cleaning and disposal of biohazard materials in compliance with local, state, and federal laws as well as OSHA requirements. We always work closely with law enforcement officials if there was a crime committed to ensure we are not in the way of the investigation.
We can be reached 24/7 at (609) 900-7686 for biohazard cleaning including emergency trauma and crime scene cleaning in West Windsor, NJ.
RestorationMaster can cover the following with our biohazard cleaning in West Windsor, NJ:
Crime scenes
Homicides and suicides
Natural and unnatural deaths
Trauma and industrial incidents
Cleaning from tear gas
Dust from fingerprints
Hoarding and uninhabitable residences
Disinfecting and removal of odors
Cleaning of vehicle mishaps
RestorationMaster offers biohazard cleaning which includes various types of trauma and accident cleaning. We know that this can be a difficult time for families, and we are trained to approach the situation with grace and understanding. We will work quickly and efficiently to ensure we clean up the scene. We also make sure to disinfect and deodorize to make the space safe again.
Trauma and Crime Scene Cleanup in West Windsor, NJ
Have you experienced a scene of a crime or a trauma scene at your property in West Windsor, NJ? RestorationMaster can help you by providing biohazard cleaning services. We will remove all biohazard materials and restore the scene all while being mindful and sensitive to the situation and your privacy.
We can be reached 24/7 at (609) 900-7686 for all your biohazard cleaning needs in West Windsor, NJ.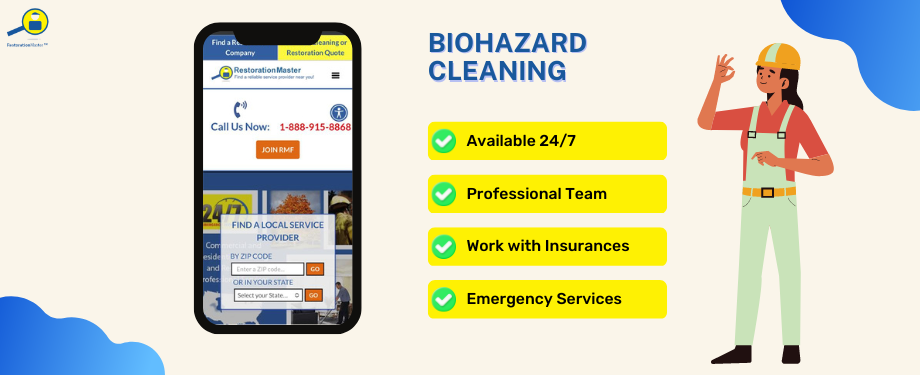 ---
Related Biohazard Cleanup near West Windsor, NJ
Trauma Cleaning Services in Princeton, NJ
Crime Scene Cleaning Experts in Trenton, NJ
Biohazard Cleaning Team in East Windsor, NJ