A worst-case scenario to a majority of property owners is a fire. The devastation it can cause in seemingly no time at all is the stuff of nightmares. If there is a fire on your property, please dial 911 and evacuate everybody from your home or office space that you can. Afterward, it is to your benefit to contact professional fire and smoke damage restoration providers. This will help you salvage and restore as much of your building and belongings as possible. RestorationMaster is a trusted name in this arena, and we provide these services to home and business owners in and around Middletown, NJ.
Problems Caused by Fires
There are obviously a lot of issues that can result from a fire on your property. That being said, not many people realize that the smoke, soot, and other byproducts resulting from the blaze can cause just as much damage. These corrosive elements can cause etching, discoloration, and deterioration in materials throughout your property. Here at RestorationMaster, we understand the manner in which this occurs, and do everything possible to limit the harmful effects.
In addition to the spread of soot and smoke, odors are notorious for navigating their way throughout your property. Porous materials will soak up these smells, which can result in permanent damage. In addition to our restoration and sanitization services, we will fully deodorize affected areas and belongings.
Our Smoke and Fire Damage Restoration Services
RestorationMaster technicians are insured and licensed to provide smoke and fire damage restoration services. As a company, we pride ourselves on the quality of our service, which is why we also utilize state-of-the-art restoration and sanitization equipment and procedures.
While there are many companies that can provide restoration services, we have decades of experience incorporated into our methodologies. When you decide to utilize our services, you can expect the following: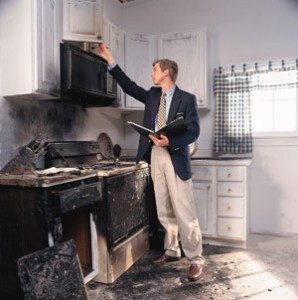 24-hour availability and a timely response
Damage minimization through our pre-cleaning services
Ceiling and wall sanitization
Utilization of chemical cleaners to fully sanitize all affected structural elements
Restoration of your personal belongings through our content cleaning and pack-out services
Complete deodorization services
Many individuals have an initial reaction to clean their belongings as quickly as possible following a fire; however, this can oftentimes lead to further, unnecessary damage. Certain materials require careful cleaning with specific chemical combinations. Other materials can be damaged by the oils in your skin. To stay safe in this regard, please take into consideration our recommendations:
Avoid touching or attempting to sanitize soot-covered surfaces
Avoid turning on air conditioners, furnaces, and other electronic devices and appliances until they have been professionally inspected
Avoid sitting on or using furniture
Throw away any consumables that may have been affected by the fire, smoke, or soot
Fires can be devastating in both residential and commercial settings, which is why we encourage you to contact our RestorationMaster representatives as quickly as possible if your property has been affected. We can be reached at (973) 306-0963 at any hour, and we proudly service property owners in the Middletown, NJ, area.
---
Related Fire and Smoke Damage Restoration Services
Fire and Smoke Damage Restoration in Brick, NJ
Fire and Smoke Damage Restoration in Howell, NJ
Fire Damage Restoration in Manahawkin, NJ
Fire and Smoke Damage REstoration in Manasquan, NJ
Fire and Smoke Damage Restoration in Ocean City and Egg Harbor Twp, NJ
Fire and Smoke Damage Restoration for Toms River, NJ