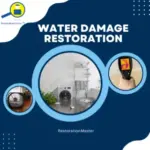 Floods, leaks, burst pipes, overflows, and similar events can lead to a dangerous level of water damage in home and office spaces in a hurry. This moisture can put the structural integrity of your building at risk, discolor materials, and destroy belongings. It can also lead to mold growth in affected areas and beyond. All of this is just the tip of the iceberg, which is why we encourage you to contact our RestorationMaster representatives as soon as you notice excess water or moisture on your property. We will repair and sanitize affected areas and belongings through our water damage restoration services, and we are proud to work with property owners in Middletown, NJ.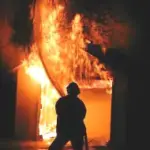 If you are ever unfortunate enough to have a fire on your property, the first things you should do are dial 911 and evacuate as many individuals as is safely possible. You should then contact us here at RestorationMaster. Fires can cause tremendous damage on their own, but are assisted in this destruction by resulting smoke and soot. This means that all areas and items in your building are at risk of becoming permanently damaged. We address all of this and more through our fire and smoke damage restoration services which we provide to affected homes and businesses in the Middletown, NJ, area.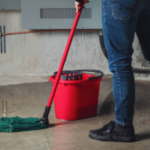 You only get one chance to make a first impression on potential customers, so it's important that they make the right impression of your business. People who see a company that's dirty, disorganized and hasn't been cleaned in a while don't want to give them their business. It's vital to keep your business looking tidy and organized as much as possible, but it's hard when you don't have your own in-house cleaning staff. RestorationMaster offers complete commercial cleaning services for clients in Middletown, NJ. No matter if you need a one-time cleaning or regularly scheduled services, our experts will work with you to make your office or building look its best.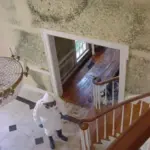 RestorationMaster is a leading provider of mold removal services in the Middletown, NJ, area. This is because of our industry-best mold identification and removal processes. Mold growth is troubling because it can quickly spread throughout your property and cause structural and health complications. When you work with us, our technicians will identify all affected areas, contain the mold to prevent it from spreading while we work, remove the mold, restore and sanitize damaged locations and belongings, and provide deodorization services when necessary. Similar to other property damaging events, mold growth should be addressed swiftly in order to limit the extent of the damage.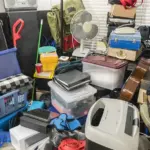 Individuals afflicted with hoarding tendencies suffer from a very real mental disorder that floods them with feelings of anxiety and fear when they are faced with throwing items away. This can create a very sensitive situation for all involved; however, it must be faced in order to prevent further disasters. Hoarded items pose a serious danger to those living in the affected property, and trusted friends and family members should point this out to begin the recovery process. Here at RestorationMaster, we work with affected individuals to dispose of belongings, restore damaged property, and sanitize affected areas through our hoarding cleaning services. We will always work with individuals affected by hoarding tendencies, as opposed to ignoring their input, and show the utmost compassion and respect. We provide this service to homeowners in the Middletown, NJ, area.
---
Related Disaster Restoration and Cleaning Services
Disaster Restoration and Cleaning in Toms River, NJ 
Disaster Restoration and Cleaning in Wildwood, NJ

Disaster Restoration and Cleaning in Manasquan and Brick, NJ

Disaster Restoration and Cleaning in Ocean City and Egg Harbor Township, NJ  
Disaster Restoration in Ramsey, NJ
Water, Fire, Mold Damage Restoration in Mahwah, NJ  
Water, Fire, Mold Cleanup in Franklin Lakes, NJ
Disaster Cleanup Professionals in Wycoff, NJ
Fire, Water, Mold Experts in East Windsor, NJ
Best Restoration Company in Trenton, NJ
Fire, Water. Mold Cleanup in West Windsor, NJ