If your property is prone to excess moisture, which many tend to be in Wildwood, NJ, then you are at risk of mold growth developing in your home or office space. While mold may seem more like a smelly, unpleasant nuisance, there is actually quite a bit that can go wrong as a result of its growth. Damage can occur to the structural elements of your building, your belongings, and even your health. To combat this, we provide comprehensive mold remediation services here at ServiceMaster of the Shore Area. We understand the nature of mold, and will promptly remove it for those in the Wildwood, NJ, area. We will also completely restore your property and personal items.
Results of Mold Growth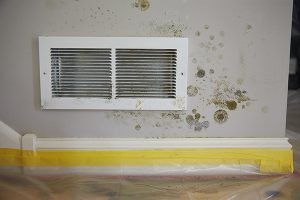 This may come as a surprise, but mold has the potential to destroy structural elements of your property, permanently damage belongings, and cause a variety of health complications for anyone exposed. These are the primary reasons why a swift response is so crucial. For a better understanding of these results, please refer to the following:
Structural Damage: Mold can quite literally feed off of many structural elements of your property when excess moisture is present. This is because of the naturally occurring cellulose within popular building materials (such as wood and sheetrock).
Damage to Belongings: Some personal items (in addition to structural elements) can become discolored, and permanently damaged. Foul odors are commonly left behind, as well.
Health Risks: Those exposed to mold are likely to suffer from worsening allergies. However, more severe complications have been documented, as well, such as respiratory infections and asthma attacks.
To complicate matters, mold is infamous for how easily it can spread. If you notice or suspect mold on your property, we encourage you to contact us right away.
Effective Mold Remediation
At ServiceMaster of the Shore Area, we identify all sources of mold, remove it, and restore any affected areas and belongings. This is possible because of our understanding of mold, proven removal methodologies, and experienced technicians. When you choose to utilize our services, you can expect the following:
24-hour availability for a timely response
A comprehensive inspection to locate all mold on your property
Containment of the mold so that it does not spread as we work
Removal of excess water and moisture
Mold removal from affected structural elements, furnishings, and belongings
Structural repair when appropriate
Implementation of our content cleaning and pack-out services for your personal items
Anti-microbial and cleaning treatments to sanitize your property
Deodorization services
A final inspection to ensure a quality result
The growth of mold on your property can quickly turn into an unnecessary ordeal if you do not seek professional help. At ServiceMaster of the Shore Area, we do everything in our power to effectively and efficiently remove mold, and restore your property and belongings through our mold remediation services. We can be reached 24 hours a day at (732) 722-5858, and work with property owners in the Wildwood, NJ, area.
---
Related Mold Remediation Services
Mold Removal in Manasquan and Brick, NJ
Mold Removal in Ocean City and Egg Harbor Township, NJ
Mold Removal in Middletown, NJ
Mold Removal in Toms River, NJ
---
Recent Reviews
Review by

J.S. Columbus, NJ
for
ServiceMaster of the Shore Area
Rating

I called Service Master when my parents had a pipe break and it flooded the 1st floor of their home. They showed up quickly. have been very professional and are doing a great job!
---
Review by

J.S.A. Brick, NJ
for
ServiceMaster of the Shore Area
Rating

Friendly workers who were very polite.
---
Review by

D.R. Toms River, NJ
for
ServiceMaster of the Shore Area
Rating

ServiceMaster checked on the area of water spill every day until the area was dry.
---
More Reviews