When natural disasters, severe accidents, and more result in property damage, the effects are felt by more than just your building. Priceless personal belongings, valuable equipment, and other important items can be lost or rendered useless. At ServiceMaster of the Shore Area, we provide complete content cleaning and pack-out services specifically for these belongings as a part of our various disaster restoration services. Depending on the condition of your building, we will repair, sanitize, and restore your items to the fullest extent possible on-site or at one of our climate controlled facilities. We offer this service to homeowners and business owners in Wildwood, NJ.
On-Site Content Cleaning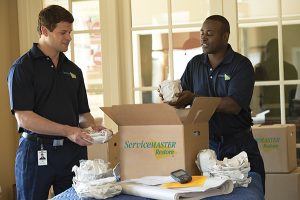 The types of events that result in property damage sometimes leave your building in an unstable and unsafe condition. When this is not the case, we can restore your belongings on-site. Elements such as water, fire, smoke, soot, and others can cause increased levels of damage to your content over time. In homes, furniture and clothing can become discolored, valuable documents can be destroyed, and priceless personal items can sustain permanent damage. For businesses, the results are similar, as important equipment can be rendered useless, documents can be lost, and you may be forced to shut down part of your operations. At ServiceMaster of the Shore Area, we will provide quality restoration, sanitization, and deodorization services for your belongings on-site in a cost effective, efficient manner.
Pack-Out Services
When your property is too dangerous to provide restoration work within it, we will offer our trusted pack-out services. Essentially, we will repair, sanitize, and deodorize your belongings, as we do with our content cleaning services, but we will do it at one of our secure, climate controlled facilities. Altogether, you can expect the following:
A timely response to limit the extent of the damage
The creation of a complete inventory of all of your belongings that have been shipped to our facility for repair (utilizing the Mobile Service Manager system)
Comprehensive cleaning, restoration, and deodorization of your belongings at our facility
Storage at our secure facility until your property is stable once more
Delivery of your content to your door
There is truly no item we cannot restore (assuming we receive it in time to salvage it). We have access to a variety of industry experts, and have experience restoring rare jewelry, important documents, electronics, business equipment, delicate clothing, and so much more.
If your property has been damaged, we encourage you to contact us about our disaster restoration services, and content cleaning and pack-out services. Our ServiceMaster of the Shore Area representatives are available at (732) 722-5858, and will happily answer any questions you may have. We work with property owners in the Wildwood, NJ, area, and look forward to assisting you soon.
---
Related Content Cleaning and Pack-Out Services
Content Cleaning and Pack-Out in Manasquan and Brick, NJ
Content Cleaning and Pack-Out in Ocean City and Egg Harbor Township, NJ
---
Recent Reviews
Review by

J.S. Columbus, NJ
for
ServiceMaster of the Shore Area
Rating

I called Service Master when my parents had a pipe break and it flooded the 1st floor of their home. They showed up quickly. have been very professional and are doing a great job!
---
Review by

J.S.A. Brick, NJ
for
ServiceMaster of the Shore Area
Rating

Friendly workers who were very polite.
---
Review by

D.R. Toms River, NJ
for
ServiceMaster of the Shore Area
Rating

ServiceMaster checked on the area of water spill every day until the area was dry.
---
More Reviews