RestorationMaster
Mold growth is oftentimes as unpleasant as it is dangerous. Not only does it look and smell disgusting, but it can structurally damage your home or office space, and trigger health complications in those exposed to it, as well. For these reasons and more, we offer full mold removal services here at RestorationMaster to those in the Ocean City, NJ, and Egg Harbor Township, NJ, areas.
Mold is notorious for how easily it can spread its spores. This is why it is absolutely essential that you contact mold remediation experts quickly if you find it on your property.
Common Places in Which Mold Tends to Grow:
Around air conditioning units
Behind toilets and refrigerators
Behind walls that contain plumbing
Beneath kitchen and bathroom sinks
In attics with poor ventilation
In basements and crawl spaces (especially if they leak or flood)
Under wet carpet
These areas attract mold because they are often moist and offer some sort of organic food source. This is all mold needs to thrive. In addition to the areas listed above, mold oftentimes attaches itself to certain structural elements that contain cellulose (a favorite food of mold). These materials include drywall, insulation, and wood.
Structural damage is one of the two main complications associated with mold growth. The second is the health risk taken by those living in close proximity to the mold. Respiratory infections, allergic reactions, and even asthma can be triggered by prolonged exposure to mold.
Mole Removal and Remediation in Ocean City and Egg Harbor Township, NJ –
Watch Our RestorationMaster Video:
Mold Remediation in Ocean City & Egg Harbor Township, NJ
There are multiple varieties of mold, and a few of the more common types are aspergillus, cladosporium, and stachybotrys atra (black mold). While these differentiations may not mean much to the untrained eye, with the exception of black mold, our technicians understand them, know where they like to grow, and are among the best in the industry at eliminating them.
When you choose to take advantage of our mold removal services here at RestorationMaster, you can expect the following:
Quick Response: Our expert representatives are available 24 hours a day to take your call, and will get a highly trained team of technicians to your property as swiftly as possible.
Open Communication: We will keep you updated about our plans and progress as we work.
Mold Containment: In order to prevent mold from spreading as we remove it, we first contain it.
Mold Removal: Utilizing our state-of-the-art mold remediation equipment, we will removal all mold from affected areas, while preventing it from spreading its spores.
Area Restoration: If affected areas have been damaged in any way, we will do everything possible to restore them to their original condition.
Contact Us for Mold Removal and Remediation in Ocean City and Egg Harbor Township, NJ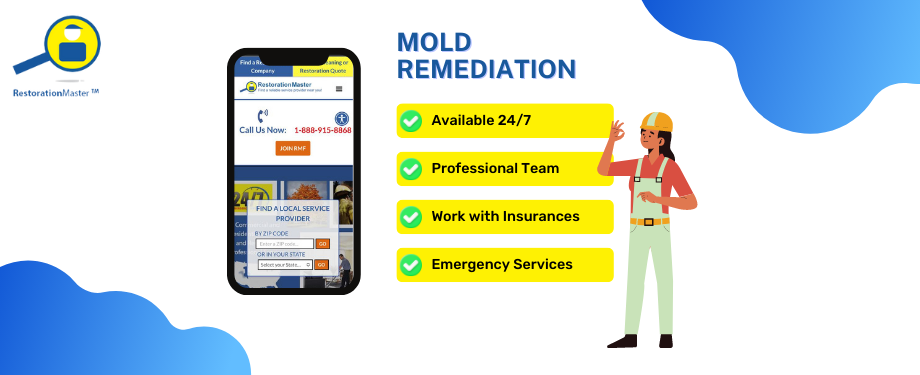 If you need mold removed from your property, please feel free to give us a call at (609) 557-3331. We are available 24 hours a day here at RestorationMaster, and proudly service those in the Ocean City, NJ, and Egg Harbor Township, NJ, areas.
---
Related Mold Removal Services
Mold Removal in Middletown, NJ
Mold Removal in Toms River, NJ
Mold Remediation in Wildwood, NJ
Mold Removal in Manasquan and Brick, NJ
Mold Removal Professionals in Trenton, NJ
Mold Inspection and Remediation Team in East Windsor, NJ
Trusted Mold Removal Experts in West Windsor, NJ
Mold, Fire, Water Restoration Company in Hamilton Township, NJ