281-916-1699
Fires are not only extremely destructive and dangerous disasters, but they also happen without warning, often catching homeowners off guard. Ensuring the safety of you and your family is the most important priority when a fire happens and once their safety is secured, your efforts should immediately turn to restoring your home or building as soot and other corrosive byproducts can spread damage long after the fire is put out. ServiceMaster Bay Area provides fire and smoke damage restoration services to restore homes and businesses in Friendswood, TX that have sustained damage in a fire. We can effectively cleanup and repair damage caused by fire and remove odors left by the smoke.
Fire and Smoke Damage Repair
Our staff at ServiceMaster Bay Area has the equipment and expertise to handle every aspect of the restoration effort from securing your home or building with tarping and board-up services to repairing and restoring the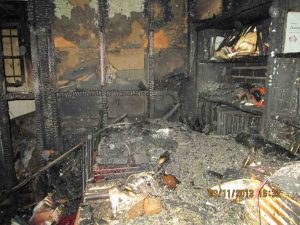 structural elements, furnishings, and personal belongings within your home. We are dedicated to restoring your home or office as quickly and efficiently as possible to minimize the interruption to your daily life and we also provide pack-out services to clean and store your personal belongings off-site while your home is being restored.
The smoke from a fire is just as likely to cause property damage as the flames and the damage caused by smoke can intrude into areas that the fire itself did not reach. Smoke can permeate through porous building materials such as wood and drywall as well as paint and this absorption causes a smoke residue to form on the surface of these materials. By using a variety of chemical combinations, we can effectively eliminate soot and smoke damage from at-risk household surfaces that include stainless steel, brass, aluminum, porcelain, carpeting, and upholstery.
Smoke Odor Removal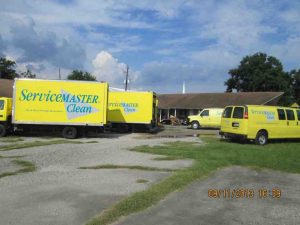 The property damage caused by the fire and smoke can extend beyond just purely physical damage as the smoke and burned materials often leave a lingering odor behind. This odor can become absorbed in the building materials and furnishings of a home which makes it difficult to remove without professional services. The technicians of ServiceMaster Bay Area use air scrubbers, ozone generators, and other advanced equipment to remove smoke odor from the structural elements, furnishings, and air spaces in your home. Our deodorization services will not only remove this odor completely, but also ensure that the smoke odor stays out of your home or building.
If a fire occurs in your home or building, it is important to call for fire and smoke damage restoration services once everyone's safety is ensured. The soot and corrosive byproducts can continue to cause damage after the fire is extinguished which can become permanent if the restoration does not begin soon enough. Do not hesitate to contact ServiceMaster Bay Area for fire and smoke damage repair services in Friendswood, TX. Our phone lines are open 24 hours a day at (281) 916-1699 to respond to emergency fire damage situations and we also provide free estimates.
ServiceMaster Bay Area also provides: