281-916-1699
The threat of a severe storm is always present in the Friendswood, TX area and if your home or building is not prepared, you could sustain significant storm damage. Southern Texas experiences a variety of severe storms such as thunderstorms, rain, floods, and strong winds, as well as more serious weather conditions including tropical storms and tornadoes. Homeowners and business owners in the area should always have their property prepared for a major storm but even the most prepared homes can still sustain damage. ServiceMaster Bay Area provides storm damage repair services to help stabilize and restore storm damaged buildings in Friendswood, TX. Our quick reaction will prevent more extensive structural damage to save you time and money on the repairs.
Sometimes a storm may form in the middle of an otherwise nice day and when this happens, there is no time to adequately prepare your property. This makes it important to have your home or building consistently prepared in case a storm develops unexpectedly. Friendswood, TX is close to the Gulf Coast which means it is prone to thunderstorms, flooding, wind, and hurricanes that can damage the exterior and structural elements of your home as well as cause water damage and mold growth inside the home. The technicians of ServiceMaster Bay Area will stabilize your home or building immediately after the storm to prevent further damage and repair any structural or exterior damage.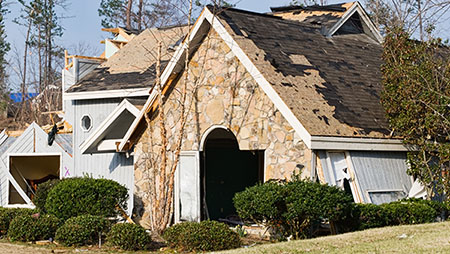 Wind Damage Repair
The wind tends to be the most damaging characteristics of a storm as it can tear apart the exterior of a home including the siding, roofing, gutters, and windows and it is also a threat to knock over trees and utility poles which is even more destructive. Storms moving into Friendswood, TX off the Gulf Coast could have dangerous wind speeds and if you do sustain wind damage, our technicians are prepared to handle the repair with these steps:
Clearing of natural debris from your property including fallen trees and branches
Clearing of non-natural debris from your property including siding, glass, and shingles
Stabilization of damaged buildings with tarping and board ups
Complete repair of the storm damage.
If a storm is expected in the Friendswood, TX area, it is wise for residents to take the right precautions to help prevent storm damage to their property. Those that still sustain storm damage despite their best efforts should contact ServiceMaster Bay Area for storm damage restoration services as quickly as possible. We can effectively stabilize your building to prevent further damage and repair the resulting damage from the storm. You can reach us 24 hours a day at (281) 916-1699 to react to storm damage emergencies in Friendswood, TX.