281-916-1699
Unfortunately, residents of Friendswood, TX, are intimately familiar with the effects of flooding. They understand the levels of damage that can be incurred in a relatively short period of time, and how important it is to be prepared. At ServiceMaster Bay Area, we offer 24/7 flood damage restoration services to help property owners limit the extent of the damage and recover in a swift and effective manner. Whether the damage is caused by a hurricane, burst pipe, or significant leak, we will respond rapidly to contain the water, extract it, remove other moisture, and begin the restoration process.
Types of Flood Damage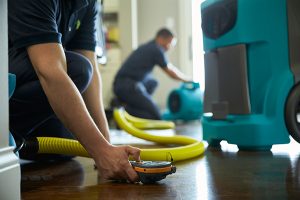 When it comes to flood damage, there are a few categories to consider: flooding from major storms, excess water and moisture from isolated incidents, and events involving contaminated water.
Major Storms: Thunderstorms, tropical storms, and hurricanes all have the potential to cause widespread flooding (Hurricane Harvey is the largest such incident in recent history). In these situations, the absurd levels of water involved can destroy residential and commercial buildings without bias.
Isolated Events: Not every case of flood damage involves widespread damage across cities and towns. In some scenarios, burst pipes, major leaks, and similar events can result in large amounts of water entering your building.
Contaminated Water: Sewage backups are the most common incidents that result in the spread of contaminated water. Pathogens in the fluid make this water extremely hazardous to the health of those exposed.
In each case outlined above, a swift and effective response is the best way to mitigate the damage and return to normal living conditions. At ServiceMaster Bay Area, we help you achieve this through our comprehensive flood damage restoration services.
Restoring Your Property
Time is of the essence in water-damage scenarios. This is why we offer 24/7 emergency-response services. We will respond rapidly in your time of need to contain affected areas and begin the restoration process. No matter the scale of the flooding involved, we give your building and belongings the greatest odds of being fully restored. For a closer look at our comprehensive approach, please see below:
Initial Inspection: To determine the cause and scale of the damage involved, we begin with an initial assessment. We will use this information to develop an appropriate plan of action.
Water Extraction and Drying: We make use of professional-grade water extraction and drying equipment to remove excess water and moisture from your property.
Restoration: Water is known to penetrate porous building materials and belongings to cause buckling, warping, discoloration, and permanent damage. We do everything we can to return your building and belongings to their original condition.
Odor Removal: We provide full deodorization services to ensure that you are not left with any unpleasant odors.
If you experience any level of flooding on your property, we encourage you to contact our ServiceMaster Bay Area representatives right away at (281) 916-1699. Through our 24/7 flood damage restoration services, we will restore your property to its original condition. We are proud to assist property owners in need in Friendswood, TX.