281-916-1699
ServiceMaster Bay Area is a leading provider of mold removal services in Friendswood, TX. For years, our skilled technicians have worked with residential and commercial property owners to identify, eliminate, and prevent mold growth. This service is important because of the severe damage that mold can cause to building materials, belongings, and even the health of those exposed. Through our services, we react quickly to remove all sources of mold from your property and restore affected areas.
Mold Growth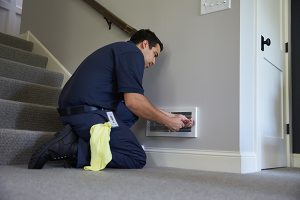 Mold is tricky to deal with because of the relatively common conditions it needs in order to thrive. The two necessary elements are an organic food source and excess moisture. This is problematic because it is standard practice for buildings to make use of wood, drywall, and other materials that contain cellulose (a natural food source of mold). This means that if excess moisture finds its way into your building, you are at a greater risk of experiencing mold growth.
When mold begins to grow, it can cause a number of complications. For starters, it can literally feed on structural elements of your building, and permanently damage surfaces. This means that the stability of your building can be put at risk, and your furnishings and other belongings can be ruined. Additionally, mold can lead to health complications for those exposed (e.g. skin irritation, allergies, asthma attacks, coughing, respiratory infections, etc.).
Professional Mold Removal Services
While it can be tempting to try and remove mold yourself, this can result in undesired consequences. When mishandled, mold will release more of its spores in an effort to spread. At ServiceMaster Bay Area, we utilize time-tested methods and state-of-the-art mold removal equipment to ensure that this does not happen. Our comprehensive process goes as follows:
We make use of specialized equipment to locate all sources of mold growth on your property
Our specialists contain the mold to ensure that it does not spread as we work
We eliminate excess moisture, and address the cause of the moisture
Our technicians remove the mold through our proven processes
We seal porous surfaces to prevent mold from returning in the future
We perform a final inspection to guarantee that all mold has been removed from your property
Mold growth is often complicated to address because of where it may appear. In many cases, it occurs in crawl spaces, behind walls, in attics, behind refrigerators, under sinks, and in other hard-to-reach places. Our technicians are trained and experienced in treating these locations and will get the job done right.
To learn more about our mold removal services, or to schedule an appointment, simply contact our ServiceMaster Bay Area representatives at (281) 916-1699. We operate in the Friendswood, TX, area, and look forward to working with you soon.