281-916-1699
Whether in a home or office, few furnishings are used as consistently as the carpet yet it does not always receive the cleaning and maintenance it needs. Heavy foot traffic will cause dirt and debris to sink into the carpet fibers where regular vacuuming cannot reach it. Over time, this dirt and soil will cause the carpet to appear dirty which diminishes the look of the entire room and this debris will also cause the fibers to deteriorate if left to accumulate.
ServiceMaster Bay Area
provides professional carpet cleaning services to help maintain carpeting for homes and businesses in Friendswood, TX. We can effectively deep clean all types of carpeting to restore its original appearance.
Residential Carpet Cleaning
Regular vacuuming is one of the best ways to help maintain the carpet in your home but it does not adequately remove the deepest embedded dirt and debris from the fibers. Having your carpet professionally cleaned at least once per year will help extend the life of the carpet as we can remove deeply embedded debris as well as stains with our advanced cleaning equipment and products. Our truck mounted cleaning system removes deeply embedded dirt with hot water extraction to effectively restore and sanitize the carpet as it cleans. The cleaning products we use can remove many different types of stains and our cleaning methods are safe and effective for all carpet types.
Commercial Carpet Cleaning
Commercial buildings and offices experience more foot traffic than a home which means that the carpeting is much more susceptible to becoming dirty and worn out. ServiceMaster Bay Area offers one-time and regularly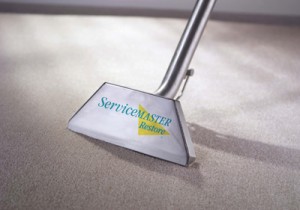 scheduled carpet cleaning services to help businesses in Friendswood, TX clean and maintain their carpeting. Our carpet cleaning services will help extend the life of the carpets as well as improve the overall appearance of the office. These commercial carpet cleaning services can provide the following benefits to your company:
Maintenance of the original color and texture of the carpet
Prolonged life for the carpet
Reversal of wear and tear
Maintaining a clean appearance
Removal of spots and stains
Cleaning with the best methods and equipment available in the industry
Professional carpet cleaning services can benefit your home or office in several ways by improving the appearance of the carpet and effectively removing the deepest embedded debris. ServiceMaster Bay Area provides effective carpet cleaning services to homes and businesses in the Friendswood, TX area. You can call us any time at (281) 916-1699 to set up an appointment or get a free estimate for our carpet cleaning services.
ServiceMaster Bay Area also provides: