How to Protect Your Home's Foundation from Water Damage
To build something solid, something that lasts, whether it is a home, relationship, or career, you need a solid foundation.  The foundation needs to be kept strong and steady, as even the soundest structures can fall if the foundation fails.
The foundation plays an important role in the structural integrity of homes and buildings and if there is damage to the foundation, it could lead to major damage to your home.  Foundation repairs are a hassle and can be quite costly, making it important to do everything possible to prevent foundation problems in the first place.
The foundation of a home can be damaged by several factors, including severe storms, tree roots, and extreme temperatures.  However, the main cause of foundation damage is water.  Water can collect near the foundation of your home from rain, snow, water runoff, and burst pipes and the saturated soil expands, putting pressure on the foundation walls that can cause cracks and leaks.  As the water penetrates the foundation, it can cause structural damage, mold growth, electrical hazards, and other issues.
In this guide, we will discuss the main causes of foundation water damage as well as what you can do to protect your foundation from damage. If you do notice considerable damage to the foundation or water damage as a result, you need to contact a professional immediately.
Understanding the Causes of Foundation Water Damage
As mentioned above, water is the leading cause of foundation damage.  However, foundation damage can be caused by water and moisture from several different sources.  The following are the main sources of foundation water damage:
Assessing and Addressing Existing Issues
Homeowners should routinely check their foundation for signs of water damage.  Foundation water damage is quite common and finding and addressing the damage as soon as possible will help prevent further damage that could be much more costly to repair.  You should take the following steps when checking the foundation for damage:
Thorough inspection of the foundation: Check the entire foundation for any signs of dampness such as leaks or physical damage like cracks. Small cracks in the foundation can be patched up with caulk to prevent leaks or the cracks from getting bigger.  If there is water or dampness from a source other than a leak through the foundation, make sure you identify the source.
Look for signs of water damage: You should check other areas of your home for signs of water damage that could affect your foundation. Check for damage to the roof and problems with your gutters and downspouts to make sure there is no water trickling down.  You should also check for problems with the plumbing system and inspect plumbing fixtures and appliances for leaks.  Dark spots on floors, ceilings, and walls may be signs of a leaking pipe.
Hire a professional for inspection: If you find considerable damage during your inspection, including water damage or cracks, you should call a professional to inspect your foundation and assess the severity of the damage.
Repair and waterproofing solutions: Any physical damage or water damage that you find when inspecting your foundation should be repaired immediately. If the damage is not addressed, the water will continue to spread, and the cracks will expand.  You should also consider waterproofing the foundation if there is a problem with water leaks.
Implementing Preventative Measures
The best way to protect your foundation from water damage is to take preventative measures that can effectively stop water damage from occurring.  Taking the following steps will help protect your foundation from damage:
Improve Drainage Systems
Ensuring proper drainage around the exterior of your home will prevent water from pooling near the foundation.  To check the effectiveness of the drainage, start with the gutters and downspouts.  Keep gutters clear of leaves and debris so that the water can run freely through them.  If they are blocked, water can overflow and run down the side of the house and collect on the ground near the foundation.  You can install screens over the top of the gutters that help keep debris out.  If your gutters are damaged, it may be time to install new gutters.
You should also check the downspouts to ensure that the water from the gutters is draining far enough away from the foundation.  The downspouts should be draining water at least 10 feet away from your home.  If they are not draining far enough, extend them so that they drain a safe distance away.  You can also consider recessed downspout extensions that are buried underground if you do not like the sight of the downspout extensions or find their placement inconvenient.  Recessed downspouts will keep water away from the foundation without interfering with the beauty or accessibility of your outdoor area.
Another way to ensure proper drainage is by creating a sloping landscape that directs water away from your home.  The soil around your house should slope at least 6 inches within 10 feet of the foundation.  If this is not the case, you need to add dense soil, preferably clay soil, to the area to create proper grading and prevent moisture from accumulating under the foundation.
Waterproofing the Foundation
There are steps you can take to waterproof the foundation which reduces the risk of damage even if water collects near the foundation. The easiest way to waterproof the foundation is to look for and seal any cracks or gaps you can find.  Check the foundation walls for cracks and deteriorating mortar joints. You can use caulk that is designed for concrete or masonry to seal small cracks and gaps or use hydraulic cement for larger gaps.  Extensive cracking should be inspected by a professional.
You can also protect your foundation by installing a waterproof membrane or barrier.  Waterproofing membranes are thin layers of materials that can be applied to the internal or external foundation walls.  They help prevent water from entering the home through the foundation by covering cracks, gaps, and other vulnerabilities with waterproof material.  Waterproof membranes are made from several different materials with polyurethane widely considered the most effective.
The following are the types of waterproof membranes used to help waterproof foundations:
Cementitious waterproof membranes
Crystalline waterproof membranes
Sheet based waterproof membranes
Liquid applied waterproof membranes
Built-up or laminate membrane
Injectable waterproofing
Asphalt tanking
If you are unsure of which type of waterproof membrane is best for your foundation, talk to a foundation professional.  It may also be wise to have a professional handle the installation.
Another effective way to waterproof your foundation is to add interior or exterior drainage systems to improve the drainage.  Drain tile systems, also referred to as French drains, consist of a perforated drainage pipe that collects water and it is usually connected to a sump pump that is inside the building that discharges the water a safe distance from the home.  These drainage systems can be installed along the exterior of the foundation, and they are buried under soil or gravel.  They can also be installed within the home underneath the basement floor to collect water that comes in through the basement floor or foundation walls.
If you want to install a French drain system inside or outside your home, you should consult a professional.
Maintaining the Plumbing System
Keeping your plumbing system in good repair is another way to effectively waterproof your home and prevent damage water damage to the foundation.  Problems with the pipes and plumbing fixtures can cause leaks that can spread through porous building materials like drywall, ceilings, flooring, carpeting, and insulation.  This not only leads to damage of the affected building materials, but also allows the water to reach the foundation.
You should regularly check the pipes and plumbing fixtures in your home for leaks or damage and fix any problems you find immediately.  Exposed pipes are easy enough to check, and you should also watch out for signs of a leak from pipes behind walls and ceilings such as dark or damp spots and bubbling or sagging.  During the winter, insulate pipes in vulnerable areas of your home such as basements, crawlspaces, attics, and outside walls, to prevent frozen pipes and pipe bursts.
Protecting the Basement and Crawlspace
Protecting the basement and crawlspace from water damage is crucial in preventing damage to the foundation.  Both of these areas are enclosed within the foundation walls which means that excess moisture or water damage within the basement or crawlspace is likely to affect the foundation.
Taking the following steps will help you prevent issues from moisture and water damage in your crawlspace or basement:
Ensure proper ventilation: Basements and crawlspaces tend to be damper than other areas of the home. If these areas are not properly ventilated, the moisture will not evaporate quickly enough, and the accumulation of moisture could lead to damage.  Make sure these areas are properly ventilated by using fans or dehumidifiers and opening vents to the HVAC system.
Install a sump pump: Sump pumps are appliances that are installed in the lowest areas of a basement or crawlspace. Water that enters the home will be collected in the pit of the sump pump and when the water reaches a certain level in the pit, the mechanical pump will automatically activate and pump the water outside the home at a safe distance through a discharge pipe.  The sump pump runs on electricity, so you should consider having a battery backup in case the power goes out during a storm.
Sealing walls and floors: Water seepage can get into basements and crawlspaces through cracks and gaps in the walls and floors. Make sure to check the walls and floors for any vulnerabilities and seal them right away.
Use dehumidifiers: If your crawlspace is naturally humid, run a dehumidifier in the space to control the humidity level. Dehumidifiers extract the excess moisture from the air which will reduce the risk of water damage and mold growth.
Additional Tips for Foundation Protection
Following the above-mentioned tips will help drastically reduce the risk of damage to your foundation from water.  In addition to the steps mentioned above, you can also take the following steps to help prevent damage to your foundation.
Look for foundation movement: Any movement of the foundation is a serious issue that requires an immediate reaction. Check for signs of foundation movement and if you notice anything, call a professional immediately.
Avoid overwatering plants: If you have bushes, flowerbeds, or other plants near your home, be careful when watering them. Overwatering these plants will cause the water to pool near the foundation.
Water preservation: Good water preservation habits will help reduce the risk of water damage in general and help you better protect your foundation from damage. Talk to your family about water preservation habits that will help reduce the risk of water damage.
---
More information:
Can a slab leak cause foundation problems?
The Dangers of a Flooded Basement
Preventing Floods All Year Long
---
Foundation Water Damage FAQ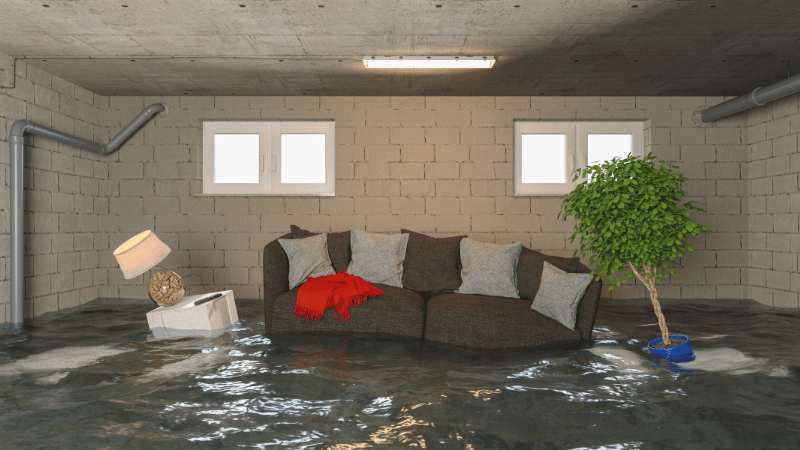 What can I put around my foundation to stop water?
You can protect your foundation from water by installing a drain tile system around the foundation.  These systems consist of a sump pit that collects groundwater and a sump pump that expels the water a safe distance from the home.  Drain tile systems are highly effective for controlling groundwater.
You can also install waterproofing membranes around the exterior walls of your foundation that can prevent water seepage.
What can I put around my house to protect the foundation?
You can help protect your foundation by surrounding your home with landscape materials like gravel, concrete, brick masonry, and rubber mulch.  These materials will not attract pests or weed growth and they can provide proper water drainage.
Why Call Water Damage Restoration Professionals for Foundation Water Damage?
The foundation is the base of your home and if the foundation experienced damage, it can have serious repercussions for your entire home.  Remember to check your foundation regularly for signs of damage and take the necessary steps to reduce the risk of foundation water damage.  If you do notice any type of damage to your foundation, whether it's water damage or structural damage, you need to call the professionals right away.
Water damage restoration professionals can restore foundation damage caused by water.  They use advanced water extraction equipment to remove water and moisture and dry the affected areas and materials.  If the foundation has sustained severe structural damage as a result of the water damage, you may need to call another professional for foundation repairs.
Do not hesitate to call a water mitigation expert as soon as you find foundation water damage.