Water damage happens quite often in homes and buildings, and it can cause significant damage without quick action. Common causes of water damage include leaks, plumbing and appliance issues, burst pipes, and sewage backups as well as humidity, rain, and severe storms. You need to address water damage quickly when it happens to your property because it easily spreads through porous materials and can cause structural damage and mold.
At CORE Roofing and Restoration, we provide water damage restoration services for homes and businesses in Gulfport, MS and the surrounding areas in Harrison County. We can handle the restoration for any type of water damage, including flooded basements and sewage backups, and we will determine the best course of action based on our assessment of the damage. Our technicians are licensed, bonded, and insured and have the proper equipment to dry out your property and restore the resulting damage.
Why You Need Water Damage Restoration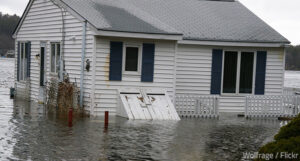 Any amount of water from a small leak to indoor flooding has the potential to cause serious property damage. Porous building materials including wood, drywall, insulation, flooring, and furnishings will absorb the water, allowing it to spread further. The materials that absorb water can become warped and rotted which leads to major structural damage. Even a small roof leak can spread through large sections of drywall and cause considerable damage.
When water damage occurs, there is a high risk for mold growth. This is because mold forms in damp areas and it feeds on the affected building materials which will make the overall damage worse. The presence of mold also creates hazardous conditions as those exposed to mold may experience allergic reactions such as headaches, skin irritation, coughing, and trouble breathing. No matter the extent of the water damage, you need to call our professionals right away.
Water Mitigation from CORE Roofing and Restoration
Our technicians at CORE Roofing and Restoration are ready to respond quickly with expert water mitigation services. We will start by containing and removing the water with advanced water extraction equipment and then focus on drying out the affected areas and materials. After the drying process, we will restore the damage caused by the water. We will also look for any signs of mold growth and provide mold remediation if necessary.
Our fast response and expert water mitigation will help with the following:
Limit the damage caused by the water or flooding
Improve the chances of your insurance covering the restoration costs
Reduce the risk of mold growth
Call CORE Roofing and Restoration for Water Damage Restoration
As soon as you find water damage within your home or building, you need to call our experts at CORE Roofing and Restoration. We will fully restore your property back to its original state and help with your insurance claim.
You can call CORE Roofing and Restoration at (228) 400-8644 for emergency water damage restoration in Gulfport, MS and the surrounding areas in Harrison County.
---
Recent Reviews