CORE Roofing and Restoration
Roof structures play a vital role in safeguarding residential and commercial properties by providing defense against external elements and potential hazards. However, roofs are susceptible to harm caused by inclement weather, strong winds, and debris. Such damage to the roofing system can expose the property to further risks. For instance, roof openings may result in leaks that lead to water damage. Consequently, it is crucial to promptly address any roofing issues to prevent additional harm to your home or business.
CORE Roofing and Restoration offers comprehensive roofing services to assist property owners with damaged roofs in Gulfport, MS and the surrounding areas in Harrison County. Our team of skilled professionals specializes in securing and stabilizing roofs, followed by complete repairs for optimal protection. Moreover, in situations where roof damage triggers other property-related issues, our disaster restoration professionals can effectively handle those as well.
Roof Damage and Its Effects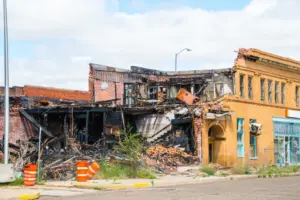 There are various factors that can cause damage to roofs, such as adverse weather conditions, rain, animal activity, tree branches, or debris. The extent of the damage can range from minor issues affecting specific areas to more significant damage impacting multiple components. Additionally, roofs naturally undergo wear and tear over time. Commercial roofs are also susceptible to damage of the drainage systems, vents, flashings, as well as granulated and composite sheets.
Roof damage can lead to significant problems, with leaks being a common issue. Over time, water seeping into the property can cause substantial damage to insulation, drywall, and wood, potentially resulting in structural damage and promoting the mold growth.
Failure to address any form of property damage leaves the property exposed to further harm. Particularly, large roof openings create a more severe situation as they expose a significant portion of the property to water, wind, and falling debris, increasing the risk of additional damage.
Regardless of the extent of the damage, it is crucial to address roofing issues as quickly as possible.
Professional Roofing in Gulfport, MS
CORE Roofing and Restoration is committed to providing swift assistance for any roofing emergencies you may encounter. Our team will promptly respond to your call and take immediate action to protect your property. We will cover, stabilize, and repair your roof, preventing any additional damage, including water damage or mold growth. Our skilled technicians will not only restore the roof, but also address any interior damage caused by the roofing issues. If you need assistance with filing an insurance claim, we are here to provide the necessary support and guidance.
Our roofing services include the following:
Leak prevention and repairs
Structural damage repair
Roof tarping and stabilization
Shingle replacement and repair
Water damage restoration and mold removal
If roof damage occurs, it is crucial to contact CORE Roofing and Restoration to receive the necessary assistance. Our team is dedicated to providing a swift response to mitigate the damage and restore your property effectively. For emergency roofing services in Gulfport, MS and the surrounding areas in Harrison County, please don't hesitate to reach out to us at (228) 400-8644.
---
Recent Reviews