RestorationMaster
It is possible that you could encounter biohazard materials within your home or building in certain scenarios.  Biohazard materials like sewage, mold, and bacteria can create dangerous conditions within your property and a situation involving a serious injury or death can contaminate the area with blood and bodily fluids.  If you encounter a situation involving an injury or death, your first call should be to emergency responders.  You will then need to call licensed professionals to help clean and restore your property.
At RestorationMaster, we provide professional biohazard cleaning services for various scenarios involving dangerous biohazard materials in Gulfport, MS and the surrounding areas of Harrison County.  Our technicians are licensed and equipped to safely remove all dangerous materials and thoroughly disinfect the area to restore safe conditions.  We will work diligently and help protect your privacy in sensitive situations and we can cooperate with law enforcement when necessary.
Why You Need Licensed Biohazard Cleaning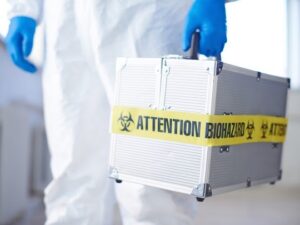 All biohazard materials including sewage, mold, bacteria, and biological materials like blood contain harmful toxins that can spread illness and infection.  Coming into contact with these materials or attempting to clean them up yourself puts you at direct risk.  The best thing to do when you recognize biohazard materials within your property is to stay clear of the area and call our professionals for cleanup.
Encountering a trauma or crime scene involving a serious injury or death can be especially overwhelming.  Bearing witness to the situation is traumatic, and the scene may be dangerous because of the presence of blood and other biohazard materials.  In these scenarios, you need to call law enforcement and emergency responders right away.  After they have responded, you can then call our professionals for restoration.
Professional Biohazard Cleaning
Our technicians at RestorationMaster are licensed and equipped to provide biohazard cleaning in any scenario.  We will remove all traces of dangerous biohazard materials and we use powerful cleaners to thoroughly disinfect the affected areas and surfaces.  We will work as efficiently as possible to restore safe conditions to your property and give you a Fresh Start.
We can provide complete biohazard cleaning services for the following scenarios:
Sewage cleanup and sanitation: Sewage in your home is dangerous because it contains waste that can cause permanent damage to the affected materials and create unsanitary conditions. Our professionals can safely remove raw sewage and contaminated water and fully restore the affected areas to safe conditions.
Virus decontamination and protection: We can help protect homes and businesses from dangerous illnesses like COVID-19 with our disinfection services. Our technicians use powerful disinfectants and follow guidelines from the CDC and EPA to thoroughly treat your property.  With these services, we can help protect your property from illnesses and decontaminate properties that have been exposed.
Deodorization and odor control: We use advanced deodorization methods to remove lingering odors left behind by mold, sewage, and other biohazard materials.
Crime scene cleanup: If a violent crime has taken place on your property, call emergency responders first, then our professionals. We work discreetly and diligently to clean and disinfect the scene and we can cooperate with law enforcement.
Trauma scene cleaning: if a major injury or death has occurred in your property, you need to call emergency responders first and then our professionals to restore the scene. We will make sure the scene is completely restored to safe conditions and we work discreetly to protect your privacy.
Blood and bodily fluid remediation: Blood and other bodily fluids are potentially infectious materials. It is best to have our professionals clean up blood safely and disinfect the affected areas to restore safe conditions.
Hoarding cleaning: The buildup of clutter from hoarding behaviors can result in mold, bacteria, and other dangerous substances forming within the clutter. We provide hoarding cleaning services that include helping the affected individual remove clutter and thoroughly cleaning and disinfecting the home to restore safe living conditions.
Call RestorationMaster for Biohazard Cleaning
No matter what type of biohazard materials you may encounter, it is best to have our experts handle the situation.  Our technicians will remove all traces of dangerous biohazard materials and restore safe conditions with thorough cleaning and disinfection.
You can reach RestorationMaster at (228) 400-8644 for complete biohazard cleaning services in Gulfport, MS and the surrounding areas of Harrison County.
---
Related Biohazard Cleanup Services
Biohazard Cleaning in Ocean Springs, MS
Biohazard Cleaning in Bay St. Louis, MS