How to Use Landscaping as a Natural Disaster Defense
When natural disasters cause damage, nobody can be blamed for the damage as it is beyond your control. You never know when the weather can take a dangerous turn, and when it does, it is better to be proactive than reactive, and you can do that with smart landscaping.
While you may not be able to protect 100% of your home, you can take steps now to decrease the damage to your property that can be caused by flooding, high winds, wildfires, and tornadoes. This can be incredibly important for those in high-risk areas, but there are risks wherever you live. Heed the tips below and stay one step ahead of the weather with smart, defensive landscaping.
Smart Landscaping is Essential
Although smart landscaping can protect your home in events of unforeseen weather dangers, it also holds large aesthetic value in more positive circumstances. For example, landscaping can improve the curb appeal of your home. If you are thinking of selling, the exterior of your property is the first thing that potential buyers will see as they approach the house. By cutting your yard regularly, properly grooming your plants, and cleaning out dead plant life, you can create a great first impression.
Many real estate agencies say that great landscaping can improve the property value by up by over 10%, which could equal thousands of dollars. Other outdoor attributes can increase this value as well, including installing a fire pit or an outdoor kitchen.
While money is great, you really do want to keep natural disaster defense in the back of your mind, especially if you live in areas of the country that are more prone to rogue weather. For instance, those who live on Florida's gulf coast are very low to sea level, so they are more prone to windstorms and hurricanes. Those who live in the Midwest may be more likely to deal with tornadoes. Regardless of where you live, research online for common threats and manage your landscaping accordingly.
Flooding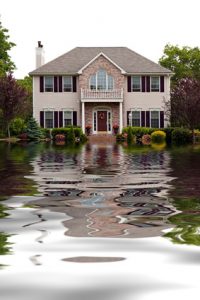 If you live near the ocean or anywhere that gets a lot of rain, then you will want to prepare your landscaping with flooding in mind. At a bare minimum, you will want to alter the grading around your home so that your yard slopes down at a decline away from your house. If it slopes down towards your house, you are essentially creating a funnel for water that leads directly to your foundation. This can cause significant water damage that will require restoration work by professionals.
To alter your grading, you will first want to determine the slope of your yard to see what areas will need to be altered. You can then fill in the low places close to your home with dirt and plant grass over that to create a seamless look that will direct the water away from your home.
You can also plant large trees around the property. The roots of trees over 40 feet tall will create spaces in the ground that the rain can pour into before getting to your house. Large tree trunks can also block water from flooding the grass behind them. Grass can do its part to absorb some of those flooding waters. It is best to plant grass that is native to your area as it has evolved to withstand the current climate.
Windstorms
Excessive winds can cause an issue in any part of the country. Those on the coasts can have hurricanes, some in California have the Santa Ana winds, and tornadoes can drop down in the most unexpected of places. The strongest winds can easily pick up and throw heavy objects that could cause major damage to your home or the property of your neighbors. To avoid this, make sure that you trim your trees regularly so there aren't any overly long branches that can fall off and blow around.
Beyond making sure that loose items in your yard don't break loose, there are other reasons to protect your home against high winds. For one, the strongest winds can cause damage to your home by tearing off siding astormnd roof panels. On top of that, if you experience frequent wind, it will make the interior of your house cooler, requiring you to use the heater more often, which will increase utility costs.
Your best option is to create a windbreak of strong and wide trees that will form a barrier between the wind and your home. Evergreen trees are always great in any windy situation as well as pine and sycamore varieties. It is essential that you do not plant these trees too close to your home, however, because although they are strong, they can fall. So, as a general rule, plant your tree fortress one to two tree heights away.
Fire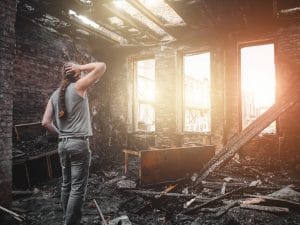 Although areas on the West Coast have less frequent tornadoes and nearly nonexistent hurricanes, they are usually more prone to unpredictable wildfires. Even the slightest spark can cause a charred path of devastation. Regardless of where you live, you will want to landscape in such a way that you can keep wildfires at bay and provide easy access to the firefighters if your home does become engulfed.
The best way to protect your house against a wildfire is to create a defensible space in your yard. This means getting rid of any dead plants, treweatheres, and shrubs that are either on your property or overhanging the yard. After completing yard maintenance, always discard the unneeded foliage immediately and never keep piles of leaves near the home, as they will make easy kindling. You should also pull out and spray all weeds regularly which will eliminate another target for fires and improve that all-important property value.
Even if wildfires may not be common in your area, a spark can leap from anywhere, and if the safety of your home rests on the shoulders of firefighters, then you may want to think ahead about how you can create the best chance for their success. To that end, plant a majority of your large trees and foliage at least 30 feet away from your house so the fireteam will have room to work. You can place pavers in that space or set up a nice picnic area.
When done right, proper landscaping can not only beautify your property but could also save your house and the life of your family. Take the precautions now so you will be ready if the unforeseen occurs.