Artificial Turf Infill FAQ and Buying Guide
Artificial turfs are popular in athletic fields all over the country. As a replacement to natural turf, artificial turf is found in fields at all levels, from Olympic stadiums to professional leagues and elementary school sports arenas. In order to ensure turf stability, buying the right infill is necessary.
What is artificial turf infill?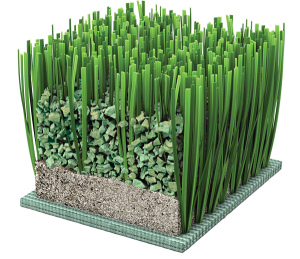 The base of an artificial turf system features dense particle materials known as infill. Experts claim that in a properly installed artificial turf system, at least ninety percent of its weight should consist of infill; the rest may be composed of turf and pad.
What is the purpose of artificial turf infill?
Infill acts like an anchor that weighs down artificial grass blades. On blustery days, the infill prevents the artificial turf from shifting around. Protecting the lower layer of turf (where the grass blades connect to the backing sheet) with infill keeps the grass blades from falling out.
What are the benefits of artificial turf infill?
The best infill enhances the performance of the artificial grass system. Both the turf and the athletes who compete on the artificial grass benefit significantly when an optimal choice of infill is installed. A wide range of infill types are available now, making knowing the options an important first step.
The three primary forms of infill feature rubber, sand or organic materials. Various brands and options are available for each type. Rubber infill is the most popular. Sand is the least expensive option but has a razor-sharp feel. Organic infill offers superior foot stability and is highly permeable.
What are the pros and cons of crumb rubber infill?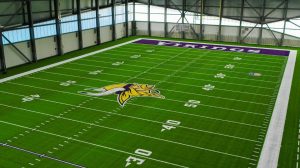 Crumb rubber is heavily used in synthetic fields because of its cost-effectiveness and widespread availability in the artificial turf market. Consisting of recycled rubber tires, this black-colored infill is non-abrasive. Crumb rubber infill endures for years while requiring little to no maintenance.
Despite its excellent shock-absorbent properties, crumb rubber infill has a few drawbacks. This type of infill is manufactured out of recycled car and truck tires and combined with raw silica sand. As a result, the end product contains chemicals and is associated with health risks.
Additional disadvantages include crumb rubber's heat retention capabilities. Its tendency to absorb heat lends further to its reputation for prompting health concerns. Plus, crumb rubber infill has an offensive odor; it dirties easily; and, the infill must be disposed of properly at the end of its lifespan.
Crumb rubber infill, being the least expensive option, costs about thirty-five cents per pound for a 2,000-pound bag. As recycled material, the infill will come broken down; it will nevertheless effectively absorb impact, and may be used around the edges of the field or in low-use areas.
What are the pros and cons of sand infill?
The next most popular infill type consists of sand. Silica sand, like crumb rubber infill, is inexpensive and widely available. In comparison to rubber infill, silica sand infill stays much cooler when exposed to sunlight. Silica sand is best used in low-traffic areas for a number of reasons.
The tiny, jagged edges of raw silica sand will gradually wear down the artificial turf, especially in heavily used areas. It's also abrasive to athletes who fall or slide on the turf. Combined with its lack of cushioning, raw silica sand infill is almost never used on athletic playing fields.
Coated sand is a better alternative to raw silica sand. The sand granules are coated with acrylic polymer, which allows for an abrasion level that is similar to crumb rubber infill. Being firm, coated sand infill improves athletic performance, and its shock pad underneath ensures safety.
What are the pros and cons of organic infill?
Organic infill consists of all-natural materials, such as cork, walnut shell and cork/coconut blends. This type of infill is free of chemicals and can be composted. Organic infill has an added benefit for athletes: it plays like a natural surface.
The need for regular maintenance and irrigation is a disadvantage of organic infills. The infill materials may float and shift after heavy rains. To combat this problem, field managers may opt for US Greentech Safeshell, which does not break down or float when the artificial turf surface is wet.
Kiefer USA Artificial Turf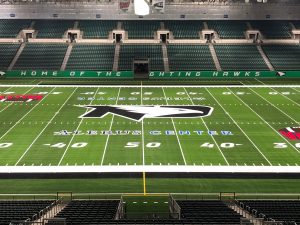 Artificial turf infill is essential to enhancing the athletic experience. Infill particles improve resiliency, absorb the impact of players' falls and stabilize the turf carpet. Be aware that the choice of infill is the most central component of the entire artificial turf system.
When you are elevating the performance level of your athletic playing field, choose Kiefer USA for all your artificial turf and infill needs. Artificial turf systems are not only our passion but our area of expertise. Our team will install an artificial turf that replicates an all-natural grass field.
Kiefer USA is a national leader in artificial turf field systems. We've installed our world-class turfs in high schools all over the country. We offer a range of products, from 100 percent post-industrial content Rubber Turf Infill to Mondo EcoFill Turf Infill.
Whether your athletes play in the sweltering heat of Texas or in the drizzling rain of Washington, Kiefer USA offers a wide range of the best artificial turf options to meet your specific needs. When you seek a synthetic turf that resembles natural grass, contact a Kiefer USA representative.