What are Symptoms of Mold Allergies?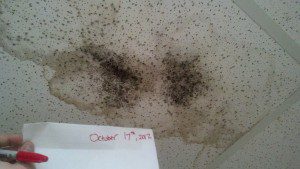 Especially during the warmer seasons, avoiding mold can be extremely tough. For those who battle allergic reactions from the spores, the symptoms can last for days, weeks, and even months, disallowing them to enjoy any of their daily activities.
Unfortunately, there are over 1,000 different species of mold that exist in the U.S. – a large portion of which are not even visible to the human eye. However, their presence can be noticed immediately, causing those with severe allergies to suffer until the mold is removed properly.
Locations of Mold
As you may already be aware, mold thrives off of organic materials and excess moisture. In homes and buildings, the structure provides the perfect host for these fungi to thrive while the addition of water will allow for its development and growth.
Unfortunately, water damage is very common – due to its extent of possible causes – and can occur anywhere; therefore, mold will almost always occur wherever there is water damage. However, the most common locations within the property are known for hosting this intruding fungus can include the following:
Behind the walls
Crawlspaces
Basements
Attic
Showers
Under the floors
Garages
Window sills
And more
They can also exist outside, such as within rotting trees, fallen leaves, grass, compost piles, and more. However, they are most common from the months of July until October.
Symptoms of Mold Allergies
Very similar to others, the symptoms of mold allergies can include the following:
Itching
Sneezing
Runny nose
Congestion
Dry and scaling skin
Breathing problems
Asthma
Hay fever
While some types of mold can trigger these symptoms over time, others can cause them right away. However, if proper mold remediation does not happen right away, the symptoms can get worse over time. In addition, the mold can spread to affect new areas, such as in the basement or your bathroom, worsening the situation for you and your building structure.
Although there are some foods that contain a fungus, such as mushrooms or yeast, or others containing yeast, such as bread and vinegar, they do not usually trigger a reaction. It is more likely their direct effect on the blood vessels that may trigger a reaction. In addition, fermented food, such as wine, contains a chemical called histamine, the same substance that is released by your allergy cells to cause a reaction; therefore, it can cause similar symptoms when consumed.
How to Diagnose a Mold Allergy from Symptoms
If you suspect you have a mold allergy, it is important to visit a doctor to have it diagnosed properly. They will first take a medical history, followed by conducting several skin or allergic IgE blood tests. During these procedures, the doctor may also prick the skin with some fungi extracts to see if you have a reaction. Finally, the doctor will use the combination of your medical history, skin testing results, and physical exams to determine if you have a mold allergy.
How to Prevent an Allergic Reaction to Mold
While there is no cure for mold allergies, there are ways to avoid a future reaction by preventing mold growth on your property. Here are some measures you can take to reduce the risk of mold both in and outside:
Avoiding Outdoor Mold
Save your outdoor vacations and activities for the seasons when mold count is generally low.
Wear a facial mask when doing outdoor chores, such as digging up plants, raking leaves, and mowing the lawn.
Preventing Mold on Your Property
Decrease the indoor moisture or humidity. If any moisture remains, any air cleaners will not work. You can use a hygrometer to measure the humidity level in your home, keeping it below 35%.
If you must use a humidifier for other purposes, make sure to clean the fluid reservoir at least twice each week to prevent bacteria growth.
Prevent mildew accumulation within the home or building. Due to the amount of moisture and bacteria in these areas, bacteria will thrive, including: basements, crawlspaces, laundry areas, and bathrooms.
Use air conditioning unit with HEPA filter. The HEPA filter will be able to trap all floating mold spores while the traditional air cleaners will only reach a specific area. However, be careful to keep it away from heat, ozone, or electrostatic-related appliances.
Removing Mold Growth to Prevent Symptoms

While there are a number of measures you can take to prevent mold growth within your home or building, sometimes it cannot be avoided. However, you should never try to remove it yourself, especially if you are allergic to it. This is because any home remedies will not only be ineffective but actually irritate the mold and cause it to spread further.
In order to have it completely removed, it is best to hire a mold remediation professional. They will be able to apply unique products that are designed to remove the mold at its source. ServiceMaster is known as one of the most effective and efficient professionals for treating mold. Not only will the technicians remove it completely, but they will also restore damage sustained within the building materials as well as identify areas at future growth. Contact your local provider today to get a free estimate for any mold growth on your property.