How to Clean Your Home After Water Damage in Yuba City, CA
Water might be necessary for human survival, but it is also a substance that can be severely damaging to homes and commercial properties. When excess water enters a home, business, or other property in Yuba City, it will become absorbed by porous building materials and furnishings, such as drywall and hardwood. This then allows the water to quickly spread throughout the space, causing extensive damage. These items will continue to take in water until it has been removed.
With enough time, the water will trigger mold growth, causing additional damage to the building.  Mold can also cause people health issues. Knowing this, immediate action is crucial. The sooner you act, the less damage your property will suffer. It also gives affected items a greater chance at being salvaged.
How to Prevent Water Damage in Yuba City, CA
If your home in Yuba City, CA has suffered flood damage or water damage, then act immediately to prevent further damage and additional issues. Use the following tips to clean your home and damaged content and give them the best chance at being salvaged.
Stop the Water Source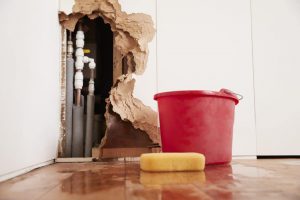 The first thing you need to do is address the source of the water. If the water continues to rush into your home or building, you won't be able to clean it. In the event you are dealing with an internal issue, like a pipe leak, then first shut off the water line. If the excess water is the result of a natural cause, like rain, then you will need to wait until it stops.
Be Safe
Your safety should always be your main priority, and this remains the case if your home has suffered water damage. It's best to wear rubber gloves, rubber boots, and long clothing that properly covers up your limbs.
Turn the Power Off
Electricity and water do not mix. So, for safety reasons, you must shut the power off, at least in the areas of your property that are affected by the water. Unplug the appliances and electronics as well. Afterwards, move whatever electronics you can to minimize the water damage done to these items.
Extract the Water
Because the water will continue to cause damage as long as it's present, immediate water extraction will be a crucial step. The water removal process is also imperative for mold prevention.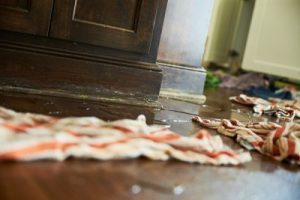 For smaller amounts of water, you can dry up the water with towels and mops. For larger amounts of water, you can opt for the old-fashioned manual method of using buckets. If you use buckets, it is best to dump the water outside into your lawn or another surface that is permeable. Avoid pouring the water down any drains in case they are or become backed up.
If you have a wet/dry vacuum, it will be particularly helpful for situations concerning large volumes of water. However, you must be careful about using electricity when excess water is present. If you are going to use a wet-dry vacuum, be sure to plug it into an outlet that's far from the water. But do not use an extension cord, as this could cause an electric shock.
You can also go to your local hardware store to rent a wet/dry vacuum. But remember, you must act quickly to limit the damage done, so do not waste too much time trying to rent one if there isn't one readily available.
Dry the Affected Areas
Once all of the excess water has been removed, you need to dry out the affected areas to prevent mold from growing. If the weather is fine, then open up windows to help dry out the property more quickly. If you have electric fans and dehumidifiers, plug those in to help as well.
Disinfect the Property
Chances are that the water that has affected your home is not clean. Because of this, it also leaves behind bacteria and other harmful substances on any areas that have been affected. Scrub floors, walls, and other hard surfaces with a disinfectant cleaner. Even better, clean these surfaces using a disinfectant that is designed for water damage treatment.
Whenever using cleaning products, you must be careful because of the chemicals they contain. Always read the instructions prior to using it and consider wearing a face mask to protect yourself from the harsh chemicals.
Get Professional Water Damage Restoration Help
Some people can handle water damage cleanup themselves, and others don't have the ability. No matter which scenario fits your situation, you need to get professional water damage restoration help when your home has sustained water damage.
With help from water damage restoration professionals, trained technicians will handle the entirety of the water damage restoration process. This includes water extraction, drying, cleaning, water damage repair, restoration, and rebuilding. If mold has grown in response to the water damage in your Yuba City, CA home or building, professionals will remove that as well. They have been trained to remediation work on water-damaged properties and will complete the job in an efficient manner that minimizes further damage.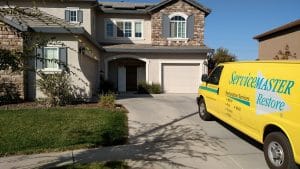 Professional help is highly recommended in situations regarding water damage, because the water can be dangerous. If the water isn't clean and is considered gray or black water, then exposure to the liquid can harm your health. The trained professionals at ServiceMaster Cleaning and Restoration are equipped to provide water extraction and restoration services in Yuba City, CA to remove excess water and moisture from your property. Give them a call today at (530) 317-5575.
Keep yourself safe and get professional restoration help from water damage restoration services.