Is DIY Mold Removal Safe?
Although mold is a natural substance, it is one that you want to avoid encountering and prevent from growing in your home. Mold spores are naturally present in the air, so mold growth can occur at any time. All the mold spores need is the proper environment.
Mold will grow when it encounters the food and water sources it needs to thrive. The water requirement is also why mold growth is a common issue in the aftermath of water damage or flooding. Mold growth is concerning because, not only will the fungus cause damage to your property, but it can also cause health problems to anyone exposed to it.
Because of this, it is important to have the mold removed right away. People may resort to DIY mold removal, thinking it is an issue they can handle on their own. However, there are concerns about mold and specifics about mold removal that may prompt you to reconsider DIY mold removal.
Continue reading to learn more about mold and its concerns, what to do about mold growth, and whether DIY removal is safe.
Why is Mold Hazardous?
Mold Causes Property Damage 
When mold grows on a surface, it is actually eating away at the material, as mold often uses cellulose as a food source. This substance is found in many common building materials, which is why mold grows easily on wood and drywall. The longer the mold grows on the material, the worse the damage will be. Eventually, the material can suffer severe structural damage.
Mold Triggers Health Problems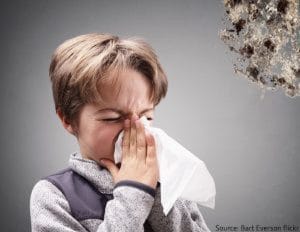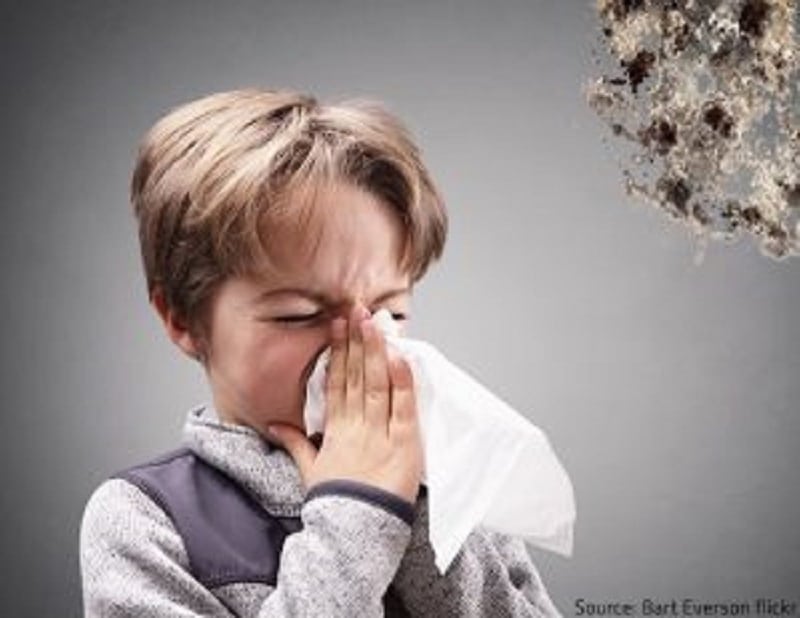 The presence of mold in your home will affect the indoor air quality, and can cause allergy symptoms for some individuals. Among the allergies, people may suffer coughing, nasal congestion, and eye irritation. People with weakened immune systems can also suffer more severe problems, such as respiratory infections.
Certain types of mold, in particular, are more harmful to people's health than others. One example of such is black mold.
Scientifically speaking, black mold is known as Stacybotrys chartarum and Stachybotrys chlorohalonata. It is commonly referred to as black mold because of its dark color. This kind of mold has toxic spores, which is why it is known to be especially hazardous. The fungus can cause chronic coughing and sneezing, headaches, respiratory irritation, rashes, fatigue, and more.
Why is DIY Mold Removal Not Recommended?
Mold Exposure
If you choose to clean and remove the mold yourself, then you are willingly putting yourself at risk for health issues that the mold can cause. This can be especially concerning if you already have health problems because the mold exposure may exacerbate your condition.
To keep yourself safe against mold exposure, you need personal protective gear. Most people do not have such gear readily available to them. So it's best to have a professional handle the mold.
Worsening the Damage
There are various DIY mold removal methods out there. However, these techniques can actually worsen the damage because you will disturb the mold growth. If you use improper methods and the wrong equipment, you will cause the mold to disperse its spores, allowing it to spread to new areas of your home. You may also not sufficiently remove the mold with DIY methods.
Hidden Mold
When you see mold growing in your home, you know you have a problem. However, mold does not always grow in visible areas. Sometimes mold will grow in concealed parts of your home, including behind walls, beneath tiles, or behind fixed furniture. Because you cannot see the mold growth for yourself, you may not become aware of the issue.
So, while you may remove and clean whatever mold is visible, there is still a chance that you did not address the entire issue. If you don't remove the mold in its entirety, then the problem will persist. The hidden mold will keep spreading and eating away at any materials it has grown on, so the damage will only get worse.
Seek Professional Mold Removal and Remediation Help
Knowing how unsafe DIY mold removal can be, you should seek professional mold removal help if you discover mold growing in your home.
At ServiceMaster by T.A. Russell, we provide professional mold remediation and removal services in  Azusa, Glendale, Pasadena, and all parts of Los Angeles County, CA. Our trained technicians will handle the entire process: mold removal, cleaning, and repairs/replacements. They are equipped with the proper personal protective gear, technology, and equipment needed to remove the mold in a safe, proper manner. They can also locate any cases of hidden mold to ensure that all mold is found and eliminated.
To begin the mold remediation process, call us at (626) 386-8834. Our technicians will first assess the damage to determine the extent of the mold growth. From there, the mold will be contained to prevent it from spreading to new areas of your home. Then, all cases of mold are removed, and any affected surfaces and materials will either be repaired or replaced.
With our professional mold removal help, your home will be free of mold, and safe to live in once again.