Water damage in your home or building is already a difficult situation, but the presence of sewage can make it much worse.  The most common ways sewage can end up within a home or building include toilet backups, broken sewer lines, injection pit overflow, or a sewage backup.  Sewage may also enter your building if there is a natural flood and the water mixes with sewage before it finds its way inside.  Regardless of how the sewage ends up in your property, you need to keep your distance from the affected areas and call our professionals for help.
At RestorationMaster, we provide sewage backup cleanup services in Orlando, FL to clean, restore, and disinfect homes and commercial buildings damaged by sewage water.  Our technicians are certified and equipped to handle any size loss regarding sewage backups and contaminated water.  We will ensure that all contaminated water is completely removed, and we will thoroughly clean and disinfect the area to prevent serious health issues.
Risks of Sewage Water
Water contaminated with sewage is dangerous because it can cause extensive damage to your property and put your health at serious risk.  Sewage water contains waste materials that get absorbed in porous building materials and furnishings along with the water.  Materials that absorb sewage water are at high risk for permanent damage.  The presence of sewage can also result in a foul odor on your property.
The most dangerous aspect of a sewage backup is the threat it poses to your health.  Sewage water is contaminated with viruses, bacteria, and other dangerous pathogens that can trigger disease and infection.  This is why we advise you to avoid contact with the water and call our professionals as soon as possible.
For more information on Sewage Backup Cleanup – Watch our video
Sewage damage can occur due to a sewer backup or flooding. The resulting water is contaminated with sewage and must be treated by a professional water damage restoration company.  Sewage water has heavy chemicals and pathogens that can cause serious health problems, especially if they are ingested or inhaled. Our team of experts will assess your property, clean it up and restore it to its original condition so that you can easily return to your normal routine.
If there is sewage on your property, make sure you take the following steps:
Call RestorationMaster right away for professional sewage backup cleanup.
Avoid contact with the contaminated water, especially to your mouth, eyes, skin, and open cuts.
Stop the source of the contaminated water if possible. If not, call a plumber.
Try to prevent spreading the contamination by staying out of the contaminated area.
Use gloves if you must touch something contaminated but be careful not to touch anything that isn't contaminated with the contaminated gloves.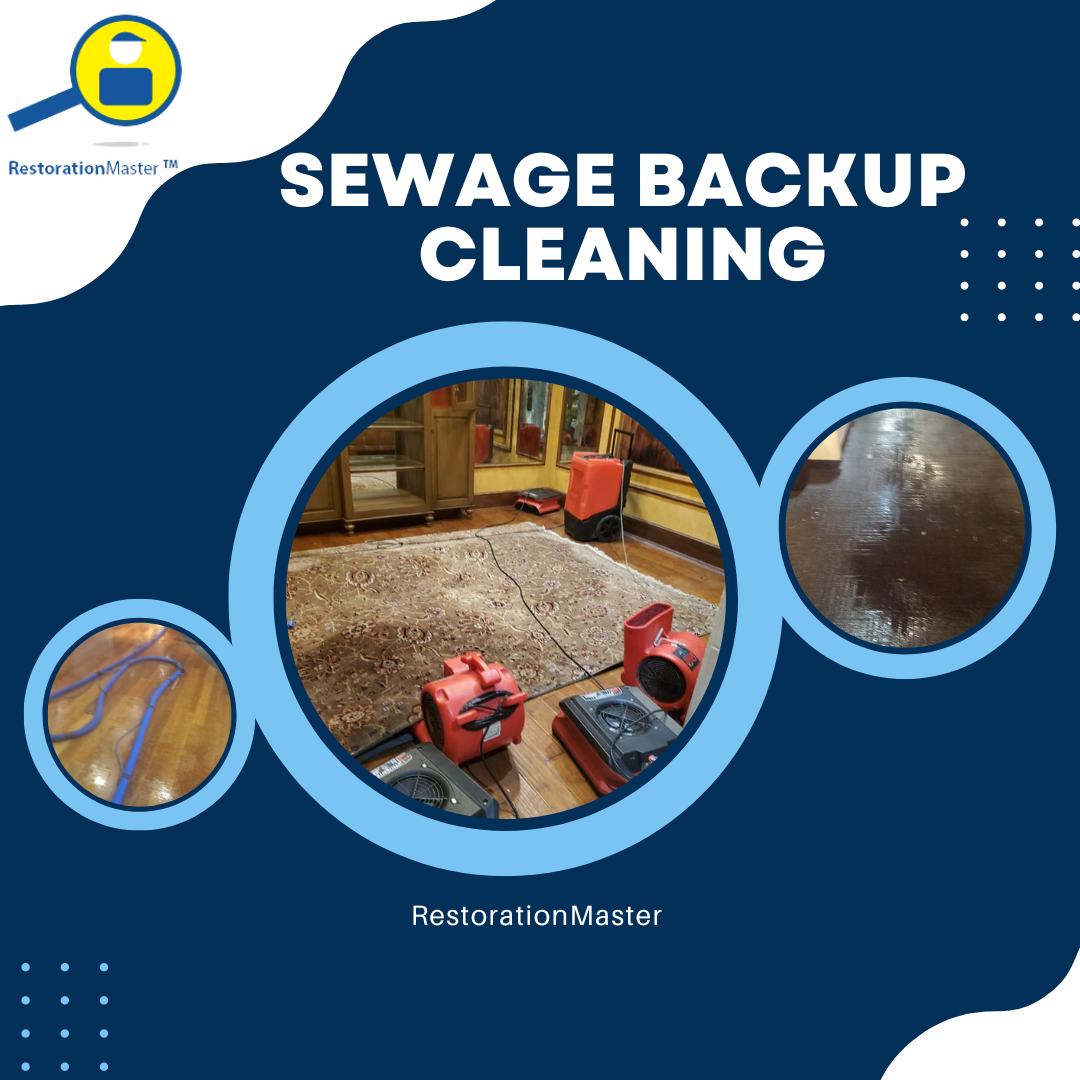 Professional Sewage Backup Cleanup
Our technicians are certified and equipped to handle sewage losses in homes and commercial buildings.  We will not only ensure that the sewage is completely removed but also clean and disinfect the affected area to eliminate the risk of negative health effects.
You can expect the following with our sewage backup cleaning services in Orlando, FL:
Emergency Response: Our technicians will arrive as quickly as possible with the equipment to handle the sewage backup.
Damage Assessment: We will assess the extent of the contamination and damage to put together a complete restoration plan.
Complete Restoration: Our technicians will completely remove all sewage water using advanced extraction and drying equipment. We will also clean and disinfect all affected areas.
Work with Insurance: We will work with your insurance provider to work out the cost of the damage.
Contact us for Sewage Backup Cleanup in Orlando, FL
Water will damage your house no matter how quickly you react. Our professional team can handle everything from the initial clean-up to the long-term restoration process. It's important that you take care of sewage water damage as quickly as possible, as this will reduce the number of microorganisms and other germs in your home. If your home or building is affected by contaminated sewage water, do not hesitate to call our professionals for sewage backup cleanup services.  We will ensure that all sewage water is removed right away to limit the loss and protect your health.
You can reach RestorationMaster 24 hours at (407) 326-2875 for sewage backup cleanup in Orlando, FL.
---
Related Sewage Backup Cleaning Services:
Sewage Backup Cleanup Services in Ocoee, FL
Septic Cleaning Company in Oviedo, FL
Sewage Cleanup Company in Casselberry, FL
Professional SewerCleaning in Winter Park, FL
---
Related Water Damage Tips
Sewer backups can manifest both within and outside a residence. Internally, these backups might arise due to factors like tree root obstructions or clogged pipes. However, the situation can be considerably more severe when it occurs outside the confines of the property. Particularly during intense thunderstorms, the risk of flooding becomes prominent. This phenomenon is attributed to sewer backups, wherein the underground drainage pipes become overwhelmed, leading to the rapid inundation of streets. In such instances, a cascade of water can unexpectedly find its way into your home, resembling a waterfall-like effect.
When a home or building has excess water, any porous building materials and furnishings will absorb the moisture. The water spreads through the material, increasing the amount of damage. As time passes, the affected materials will weaken structurally and are at greater risk of mold growth. Because of this, it is imperative that the water is stopped promptly, and the damage is addressed immediately.
Besides the obvious inconveniences, sewer backup may pose great risks to your health and may turn out to be a considerable drain on your budget, especially if your insurance doesn't cover such problems and you need to pay for all the repair works and replace damaged furniture or appliances. However, you can avoid the trouble altogether or at least limit the damage, if you know the right steps to take after a sewage backup.