Water damage in your home or building is already a difficult situation, but the presence of sewage can make it much worse.  The most common ways sewage can end up within a home or building include toilet backups, broken sewer lines, injection pit overflow, or a sewage backup.  Sewage may also enter your building if there is a natural flood and the water mixes with sewage before it finds its way inside.  Regardless of how the sewage ends up in your property, you need to keep your distance from the affected areas and call our professionals for help.
At Philip White Water Restoration, we provide sewage cleaning services in Orlando, FL to clean, restore, and disinfect homes and commercial buildings damaged by sewage water.  Our technicians are certified and equipped to handle any size loss regarding sewage backups and contaminated water.  We will ensure that all contaminated water is completely removed, and we will thoroughly clean and disinfect the area to prevent serious health issues.
Risks of Sewage Water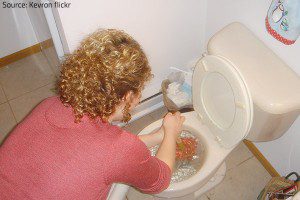 Water contaminated with sewage is dangerous because it can cause extensive damage to your property and put your health at serious risk.  Sewage water contains waste materials that get absorbed in porous building materials and furnishings along with the water.  Materials that absorb sewage water are at high risk for permanent damage.  The presence of sewage can also result in a foul odor on your property.
The most dangerous aspect of a sewage backup is the threat it poses to your health.  Sewage water is contaminated with viruses, bacteria, and other dangerous pathogens that can trigger disease and infection.  This is why we advise you to avoid contact with the water and call our professionals as soon as possible.
If there is sewage on your property, make sure you take the following steps:
Call Philip White Water Restoration right away for professional sewage cleaning.
Avoid contact with the contaminated water, especially to your mouth, eyes, skin, and open cuts.
Stop the source of the contaminated water if possible. If not, call a plumber.
Try to prevent spreading the contamination by staying out of the contaminated area.
Use gloves if you must touch something contaminated but be careful not to touch anything that isn't contaminated with the contaminated gloves.
Professional Sewage Cleaning

Our technicians are certified and equipped to handle sewage losses in homes and commercial buildings.  We will not only ensure that the sewage is completely removed, but also clean and disinfect the affected area to eliminate the risk of negative health effects.
You can expect the following with our sewage backup cleaning services:
Emergency Response: Our technicians will arrive as quickly as possible with the equipment to handle the sewage backup.
Damage Assessment: We will assess the extent of the contamination and damage to put together a complete restoration plan.
Complete Restoration: Our technicians will completely remove all sewage water using advanced extraction and drying equipment. We will also clean and disinfect all affected areas.
Work with Insurance: We will work with your insurance provider to work out the cost of the damage.
If your home or building is affected by contaminated sewage water, do not hesitate to call our professionals for sewage cleanup services.  We will ensure that all sewage water is removed right way to limit the loss and protect your health.  You can reach Philip White Water Restoration 24 hours a day at (407) 818-1110 for sewage cleaning services in Orlando, FL area.
---
Recent Reviews
---
Review by Michael Vargas
Cleaning
Rating

"I had extensive water damage on the roof of my garage ceiling from a leaking water pipe. Phillip White came out and was able to explain the extent of the damage and let us know what needed to be repaired. He priced us at a fair amount and was very straight forward. He did an overall good job and would recommend him for water damage repair and drywall repair.."
---
Review by Dena Atchison
Cleaning
Rating

"We are in the beginning stages of working with Phillip, but he's gone above and beyond what any business owner has ever done so far. I have no doubt that our end result we'll feel the same way but I will be sure to update when everything is completed. I wouldn't hesitate to call him, he's been amazing!"
---
Review by Sam Burton
Cleaning
Rating

"The house cleaning they did was phenomenal! I thought I was going to have to paint or replace the windows but after they did the exterior cleaning, I realized I did not need to paint my eaves and trim either. 🤠 Phil is easy to work with and his team does an excellent job!"
---
See All Reviews