Indoor flooding and water damage are already major problems, but if there is sewage involved, the situation is much more dangerous.  It is common for natural flooding to become mixed with sewage before it affects properties, and a sewage backup can also put sewage water in your home or building.  Sewage can cause very serious permanent damage to affected furnishings and building materials and it contains harmful microorganisms that can spread infection and disease.  You should never try to clean up water that you believe has sewage and instead call our professionals to handle the sewage.
At Philip White Water Restoration, we provide sewage backup cleanup in Winter Park, FL to remove sewage from affected homes and buildings.  Our technicians are equipped to safely remove sewage and permanently damaged materials and we can disinfect the damaged areas to make sure they are safe.
Damage Caused by Sewage
Sewage water contains waste materials that can cause serious, often permanent property damage as well as dangerous microorganisms that can affect your health.  Porous building materials like wood, drywall, carpeting, and furniture absorb the waste materials with the water which is why these materials are vulnerable to further damage.  It is possible to save these materials with quick action, but they will most likely need to be removed and replaced.  Areas affected by sewage may also have a foul, lingering odor left behind.
The threat poses to your health is the main issue with sewage as it likely contains bacteria and other dangerous microorganisms that can spread infection and disease.  Attempting to clean up sewage puts your health at risk which is why it is important to call professionals to handle the cleanup.  If there is sewage on your property, you need to make sure you protect your health and the health of others.
Make sure you take the following actions when dealing with sewage to protect yourself and help limit the damage:
Call Philip White Water Restoration for professional sewage cleaning.
Try to avoid any contact with the water, especially on your skin, mouth, eyes, and open cuts.
Call a plumbing professional if you cannot fix the source of the sewage.
Keep the affected areas clear to protect the health of those on the property.
Use gloves to handle anything contaminated by sewage and throw the gloves away.
Professional Sewage Backup Cleanup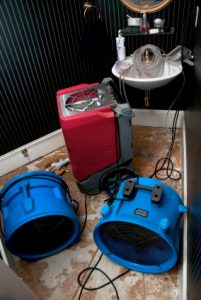 Our technicians are IICRC certified and equipped to effectively clean and restore homes and buildings affected by the sewage.  We will make sure all sewage is completely removed and we restore safe conditions by cleaning and disinfecting the damaged areas.
You can expect the following steps from our sewage cleaning services:
Emergency response: Our technicians arrive right away to limit the damage and start the restoration process.
Damage valuation: We will determine how far the sewage spread and evaluate the damage.
Property restoration: We will dry and restore the affected areas and make sure they are thoroughly cleaned and disinfected to protect your health. We can also remove permanently damaged materials.
Work with insurance: We can work with your insurance provider to help with your claims.
If there is sewage on your property either from flooding or a sewage backup, you need to call our professionals at Philip White Water Restoration right away.  You can trust our professionals to fully clean and restore your property back to safe conditions.
You can call us 24 hours a day at (407) 818-1110 for sewage backup cleaning in Winter Park, FL area.
---
Related Sewage Backup Cleaning Services:
Sewage Backup Cleaning Technicians in Orlando, FL
Sewage Backup Cleanup Experts in Ocoee, FL
Reliable Sewage Cleaning in Oviedo, FL
---
Recent Reviews
---
Review by Domenic Aloise
Cleaning
Rating

"Phillip was very helpful with mitigating my laundry room flood. He came over as soon as he could and set up all the equipment quickly and started the drying process. He was very thorough and checked it over a few days before giving it the all clear. He was available when I called or texted if I had any questions. Would recommend for water mitigation services."
---
Review by Twila Powell
Cleaning
Rating

"Phil's response time was amazing. And the service was impeccable. I'll recommend him to anyone who needs help with water damage."
---
Review by Chris Reed
Cleaning
Rating

"Great company I have known the owner for years. This is someone I trust and would recommend"
---
See All Reviews