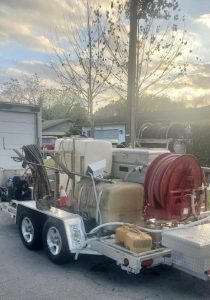 Finding flooding in your home or building is a frustrating experience. This amount of water can lead to serious damage, and you may not know what to do right away. It is important to call a water damage restoration professional as soon as possible because the water will get absorbed into the surrounding materials which can cause structural damage. There is also a high risk of mold growth in areas affected by flooding.
At Philip White Water Restoration, we provide residential and commercial flood cleanup services to remove floodwater from homes and businesses in Winter Park, FL. Our technicians use water extraction equipment that can remove standing water and we will dry and restore the affected areas. No matter the amount of floodwater, you can count on our professionals to help.
Damage Caused by Indoor Flooding in Winter Park, FL
Indoor flooding may occur due to natural floods and heavy rain, sewage backups, and pipe bursts. All of these causes can result in hundreds of gallons of water affecting your property. When sewage is involved, the situation is much more dangerous as the waste materials in sewage can cause permanent damage and the toxins in sewage can threaten your health.
Damage caused by indoor flooding is often extensive because the water will quickly spread through porous building materials and furnishings including wood, drywall, flooring, and carpeting. These materials can become stained, warped, and corroded from the flooding and extensive damage to materials like wood and drywall can lead to structural damage. It is important for flood water to be removed with the proper equipment and at a steady pace because removing the water too quickly will cause further damage in the affected areas.
Water Damage Restoration and Flood Cleanup in Winter Park, FL – Watch our video
Mold growth is another common issue with flooding because mold thrives in areas with excess water and moisture. Mold can cause serious damage to the materials it affects, and it puts your health at risk because it can trigger allergic reactions and infection.
The best way to limit the damage and prevent the appearance of mold growth is to call a professional for flood damage cleanup as soon as possible.
Commercial and Residential Flood Cleanup in Winter Park, FL
Our professionals at Philip White Water Restoration take the following steps to provide complete flood cleanup:
We will respond immediately after your call and evaluate the extent of the damage.
Using advanced water extraction equipment, all floodwater is removed.
We set up air dryers and dehumidification equipment to dry the affected areas and materials.
The damaged areas are cleaned and restored.
We do a final inspection to ensure that your property is fully restored.
Call us today for Flood Cleanup in Winter Park, FL
You cannot hesitate to take care of flooding in your home or business. We specialize both in residential flood cleanup and commercial flood cleanup. Call our professionals at Philip White Water Restoration if your property has been affected by flooding in Winter Park, FL area.
You can reach us 24 hours a day at (407) 326-2875.
---
Related Flood Cleanup Services:
24/7 Flood Cleaning in Orlando, FL
Flood Cleanup Professionals in Ocoee, FL
water Extraction from Flood in Oviedo, FL
Reliable Residential and Commercial Flood Cleanup Services in Casselberry, FL
---
Recent Reviews
---
Review by Greg Hogancamp
Cleaning
Rating

"Phil came out at night after a water pipe burst behind my wall. Set everything up quickly. Explained the whole process. Made sure the job was done correctly and then came back to check on everything. Really great experience considering how bad the night started out. Would recommend to anyone who has a similar issue."
---
Review by Darro Willey
Cleaning
Rating

"Used Philip White Painting and Restoration for some interior painting and exterior pressure washing. Arrived schedule and did a thorough job at a fair price. Would use again."
---
Review by Bill Dalton
Cleaning
Rating

"I couldn't be more grateful for how quick and efficient they were at saving my hardwood floors"
---
Review by Kenneth Ridge
Cleaning
Rating

"Heading into my weekend my place had a pretty significant leak about 2 weeks after a major plumbing project. Most of my unit is carpeted, so MAJOR stress!!! Philip White came over pretty quickly with his equipment, did some initial checks and set up. He helped me find where all the water came from (which was a pretty tucked away location. I literally felt like I was standing on my head to see it). He was patient with all my questions, and helped to turn a horrible situation into something more tolerable."
---
See All Reviews