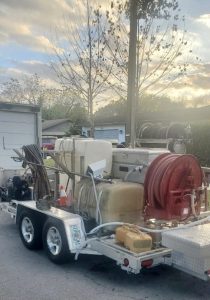 Indoor flooding is a major disaster that can result in a lot of damage and leave you feeling overwhelmed. Your home or building may become flooded from weather conditions like heavy rain or natural floods, and internal problems like sewage backups, burst pipes, and overflows can also result in standing water. Floodwater can cause significant damage to the affected furnishings and building materials, leading to structural issues, mold growth, and permanent damage. You need to call professionals right away if your property is flooded.
Philip White Water Restoration LLC provides residential and commercial flood cleanup services in Orlando, FL to remove floodwater from affected properties and restore the damage. Our technicians use advanced water extraction and drying equipment to ensure that all water and moisture are effectively removed. No matter the cause of the high levels of water in your building, we will swiftly and effectively remove it, and return your home or business back to its original condition.
Causes and Concerns of Indoor Flooding in Orlando, FL
A lot of events can lead to extensive water damage within buildings but there are several common ones that jump out right away. Harsh weather conditions are one of the main causes of indoor flooding. Severe storms can lead to flooding and major leaks, while extremely cold temperatures can cause pipes to freeze and burst. Another scenario that is common is when your main sewer line gets clogged, resulting in a sewage backup.
In each situation, there are obviously a variety of consequences to be concerned about. Regarding high levels of excess water, structural damage and damage to the contents of your building should be your primary concern. Water will penetrate porous building materials, cause damage, and then spread. Meanwhile, personal belongings, electronics, and more along the way can be permanently damaged, as well.
Water Damage Restoration and Flood Cleanup in Orlando, FL – Watch our video
A complication that occurs due to excess moisture is the growth of mold and bacteria. Mold is notorious for spreading its spores with ease once it takes hold, while bacteria can spread in different ways. Nonetheless, both can result in significant health consequences if they are not removed properly.
It may be an unpleasant thought, but the presence of sewage is another situation that you should be aware of. When this occurs, the likelihood of infections and diseases spreading is greatly increased. It is extremely important to remove this harmful material while extracting water, and then treat affected areas.
Flood Cleanup Approach in Orlando, FL
At Philip White Water Restoration LLC, we take a detailed approach to flood damage restoration. You can expect our technicians to take the following steps:
24/7 availability to ensure a rapid response
A swift assessment of your property to determine the cause of the flooding, and the extent of the damage
The creation and implementation of a water and moisture extraction and drying plan tailored to your specific needs
Complete cleaning and restoration
A thorough final inspection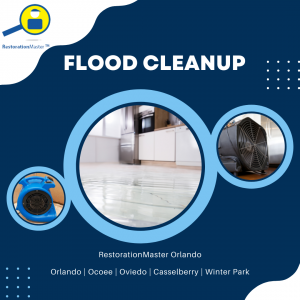 Contact us for Flood Cleanup in Orlando, FL
Philip White Water Restoration LLC is available 24 hours a day to respond to emergencies for homeowners and business owners. We specialize both in residential flood cleanup and commercial flood cleanup.
For flood damage cleanup services in Orlando, FL area, give us a call at (407) 326-2875.
---
Related Flood Cleanup Services:
Residential and Commercial Flood Cleanup Services in Ocoee, FL
Flood Damage Restoration in Oviedo, FL
Water Mitigation from flood services in Casselberry, FL
---
Recent Reviews
---
Review by Greg Hogancamp
Cleaning
Rating

"Phil came out at night after a water pipe burst behind my wall. Set everything up quickly. Explained the whole process. Made sure the job was done correctly and then came back to check on everything. Really great experience considering how bad the night started out. Would recommend to anyone who has a similar issue."
---
Review by Darro Willey
Cleaning
Rating

"Used Philip White Painting and Restoration for some interior painting and exterior pressure washing. Arrived schedule and did a thorough job at a fair price. Would use again."
---
Review by Bill Dalton
Cleaning
Rating

"I couldn't be more grateful for how quick and efficient they were at saving my hardwood floors"
---
Review by Kenneth Ridge
Cleaning
Rating

"Heading into my weekend my place had a pretty significant leak about 2 weeks after a major plumbing project. Most of my unit is carpeted, so MAJOR stress!!! Philip White came over pretty quickly with his equipment, did some initial checks and set up. He helped me find where all the water came from (which was a pretty tucked away location. I literally felt like I was standing on my head to see it). He was patient with all my questions, and helped to turn a horrible situation into something more tolerable."
---
See All Reviews