Tile and grout surfaces are found in every home because their durability and moisture resistance makes them ideal for kitchen and bathrooms. These surfaces are also a great option because their design versatility makes it possible to find a color or style of tile that works with any kitchen or bathroom design. However, tile and grout surfaces are not invincible as the finish can fade with time and allow dirt and moisture to accumulate on the tile surfaces and grout lines. Dirty or faded tiles can have a drastic effect on the overall appearance of your kitchen or bathroom. Philip White Water Restoration LLC provides professional tile and grout cleaning services to fully clean tile and grout surfaces for homes in Orlando, FL. We will deep clean your tile and grout surfaces with our advanced equipment to help revive its original color and appearance.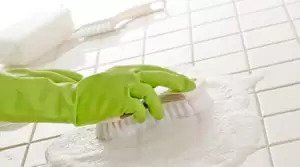 The tile and grout in a kitchen or bathroom is usually central to the overall design as it can be used for flooring, walls, counters, and backsplashes. When tile surfaces and grout lines accumulate dirt, moisture, and other debris that can affect their look, it affects the appearance of the entire space. Sweeping and mopping cannot remove deeply embedded debris or moisture, it takes specialized cleaners and equipment. RestorationMaster of Orange County Florida uses truck mounted, high-pressure cleaning equipment that can effectively clean the surface of the tile and remove mildew and debris from the grout lines. Our equipment and cleaning products are safe for any type of tile including porcelain and ceramic.
You can expect the following from our tile and grout cleaning services:
Thorough assessment of tile and grout surfaces to create an effective cleaning plan
Pre-treatment of any spots or stains
Complete cleaning of all tile surfaces with our specialized cleaning equipment and products
Corner and baseboard cleaning
Drying of the tile and grout surfaces
Keeping your tile and grout surfaces clean with sweeping and mopping helps but will not prevent the buildup and fading caused by accumulated dirt and moisture. If the tile surfaces start to fade in your home in Orlando, FL, contact Philip White Water Restoration LLC to revive your tile with our tile and grout cleaning services. We are available at (407) 326-2875 to provide more information or to schedule an appointment.
---
Recent Reviews
---
Review by Greg Hogancamp
Cleaning
Rating

"Phil came out at night after a water pipe burst behind my wall. Set everything up quickly. Explained the whole process. Made sure the job was done correctly and then came back to check on everything. Really great experience considering how bad the night started out. Would recommend to anyone who has a similar issue."
---
Review by Darro Willey
Cleaning
Rating

"Used Philip White Painting and Restoration for some interior painting and exterior pressure washing. Arrived schedule and did a thorough job at a fair price. Would use again."
---
Review by Bill Dalton
Cleaning
Rating

"I couldn't be more grateful for how quick and efficient they were at saving my hardwood floors"
---
Review by Kenneth Ridge
Cleaning
Rating

"Heading into my weekend my place had a pretty significant leak about 2 weeks after a major plumbing project. Most of my unit is carpeted, so MAJOR stress!!! Philip White came over pretty quickly with his equipment, did some initial checks and set up. He helped me find where all the water came from (which was a pretty tucked away location. I literally felt like I was standing on my head to see it). He was patient with all my questions, and helped to turn a horrible situation into something more tolerable."
---
See All Reviews