Water damage is always a difficult problem to deal with because water can find its way through the tiniest cracks and cause great structural damage before you detect the problem. Its source is often well hidden or overlooked, as water damage can be caused by many factors including storms, rain, flooding, leaks, and excess moisture. Regardless of how the water damage started, however, it is important to deal with it at the earliest opportunity and to clean up and restore the inflicted damages immediately because otherwise the moisture will continue to get absorbed and spread through porous materials in the building. ServiceMaster Bay Area provides water and flood damage restoration services to homes and businesses in Galveston, TX and the surrounding areas. We will completely remove excess water from floods, leaks, storms, or sewage backups and will restore your daily routine quickly and efficiently.
Water Damage Restoration Process
The technicians of ServiceMaster Bay Area understand very well the great inconveniences and risks posed by water damage and work effectively to resolve the problem in a speedy and competent manner. We use the most advanced cleaning methods and equipment of the industry to ensure quality water damage repair and full water damage mitigation. All the affected areas are properly sanitized and completely dried, so that they can be used again without any risk. What is more, we take the necessary measures to prevent any further damage or mold growth in your home or business area.
Our water damage restoration process includes the following:
Quick Assessment: We will inspect your property and find out the cause of the damages. Then, we will assess what measures will be most appropriate in your case and what will be required to repair the damage and prevent future problems. You will be provided with a full copy of our assessment.
Advanced Equipment: We use the most advanced equipment available, including powerful blowers to remove excess water and thoroughly dry the building.
Drying: We make sure every part of the building is completely dry including wall cavities, crawl spaces, corners, and furnishings to prevent mold growth.
Deodorization: Sometimes excess water or mold and mildew can leave a bad smell in the building. We offer efficient deodorization services to remove any remaining odor.
If you need water damage restoration services in Galveston, TX, ServiceMaster Bay Area can provide you with invaluable assistance at an affordable price. Our technicians will not only help you restore your property and your life very quickly but will also provide practical tips on how to prevent water damage in the future and what are the right steps to take in the event of flooding.
Sewer Backup Cleaning
If the flooded water in your home or building contains sewage backup, this will add another dimension to the cleanup. Sewage backup poses great risks to your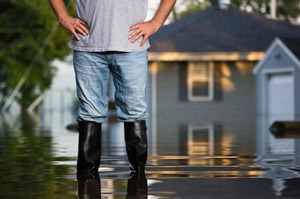 health and your property as it harmful bacteria that can spread infection or disease. The technicians of ServiceMaster Bay Area have the proper equipment to effectively clean up sewage and perform anti-microbial applications to kill germs and bacteria. We can properly disinfect and restore all the contaminated areas in your home and business, so that you can resume your habitual daily routine quickly and without any risks. Our services include water extraction, odor removal and thorough drying, as well as the appropriate repair works.
Sewage backup can be dangerous and if you try to deal with it yourself, you may easily make the matters worse. You can damage the pipes if you use harsh chemicals or you can spread the contamination if you try to remove the sewage in an inappropriate manner, etc. On the other hand, if you contact the professionals of ServiceMaster Bay Area to handle the cleanup as soon as you detect the problem, you will have your property competently restored and will avoid wasting extra nerves and money.
As soon as you discover water damage in your home or building in Galveston, TX, contact ServiceMaster Bay Area for water and flood damage restoration. Our trained technicians have the experience and equipment to handle all types of water damage including leaks, floods, and even sewage. We can be reached 24 hours a day at 281-916-1699 for a free estimate for our water damage services in Galveston, TX 77550.
We also provide: