281-916-1699
Major storms are always a possibility to occur anywhere in the United States and storms that are particularly severe can cause property damage to homes and buildings that are not prepared. The Galveston area is prone to a number of storms including heavy rain, thunderstorms, flooding, wind, tropical storms, and the occasional tornado which means that area residents should have their homes prepared and be ready to react to any storm damage. ServiceMaster Bay Area provides storm damage repair services in Galveston, TX to help homes and businesses that have sustained damage during a storm. We react quickly to secure your building which will help prevent further damage.
It is not unusual for severe storms to develop in the middle of a pleasant day which gives homeowners almost no time to react to an impeding storm. Therefore, you should always have your home prepared to help prevent major damage in the event of an unexpected storm. Galveston experiences major storms throughout the year that may include thunderstorms, strong winds, flooding, and tropical storms and they can cause a range of issues such as water damage, structural damage, and mold or mildew growth. Our technicians at ServiceMaster Bay Area can effectively stabilize and repair storm damaged homes and buildings as well as remove debris, excess water, and mold from your property.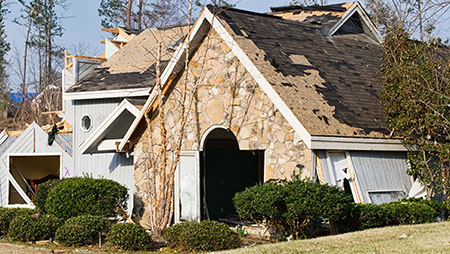 Wind Damage Repair
One of the most dangerous elements of severe storms is the wind and many of the storms coming into Galveston off the Gulf Coast have strong winds that can reach dangerous speeds. Wind is a threat to cause exterior damage to the roofing, siding, windows, and gutters of a home and it can also knock over heavy objects such as trees and power lines to cause even more damage. We are trained to provide wind damage repair services for homes and businesses and clear the property of debris with the following steps:
Removal of natural debris such as tree branches
Removal of non-natural debris including glass, siding, and other building materials
Temporary stabilization of the home or building
Repair of the storm damage to the exterior and structural elements of the home
The threat of a severe storm should not be taken lightly so if there is a possibility of severe weather in the Galveston area, make sure your home or building is prepared to avoid significant damage. If your home or building still does sustain damage in a storm, contact ServiceMaster Bay Area immediately for storm damage repair services. We have the training and experience to secure and repair your building to prevent more significant damage and we will also make sure your property is cleared of debris. You can call us 24 hours a day at (281) 916-1699 for storm damage emergencies in Galveston, TX.