281-916-1699
Tile and grout surfaces are among the most popular choices for kitchens and bathrooms for flooring, walls, and backsplashes. Tiles are available in a wide range of colors and styles to work with any bathroom or kitchen design, and they are ideal for these spaces because they are durable and moisture resistant. However, dirt and mildew can adhere to the tile and grout surface as the finish wears off over time. ServiceMaster Bay Area provides tile and grout cleaning services to homes in Galveston, TX. We can deep clean and restore your tile and grout surfaces with our advanced cleaning equipment.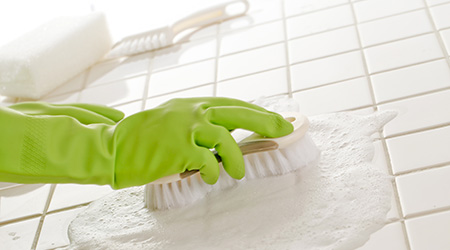 As the finish gradually wears off the tile and grout surface, dirt, mildew, and other debris stick to the surface to give it an overall dirty appearance. Our technicians use a truck mounted cleaning system that removes the deeply embedded dirt from the tile and grout lines with the high pressure water extraction method. This cleaning method is safe for ceramic and porcelain tiles and removes embedded dirt much more effectively than sweeping and mopping. The tile and grout services we provide include the following steps:
Full evaluation of the tile and grout surfaces to determine the best cleaning method
Spot and stain pre-spray
Cleaning with high pressure water extraction method
Corner and baseboard cleaning
Drying of entire tile surface
If you have tile and grout surfaces in your home that are looking faded or dirty, contact ServiceMaster Bay Area for tile and grout cleaning services in the Galveston, TX area. Our high pressure cleaning method will remove stains and embedded debris from the tile as well as restore their original color. You can call us 24 hours a day at (281) 916-1699 to learn more about our tile and grout cleaning services.