Excess water in a home or building can spread to cause significant damage. When a home or building experiences indoor flooding, the potential damage can be far worse than that from a leak or seepage. There are several possible causes of indoor flooding including rain and natural floods, plumbing leaks, burst pipes, and sewage backups and if the flooding is not dealt with immediately, it can cause major issues. Standing water gets absorbed into building materials like flooring, wood, and drywall very quickly which increases the risk of extensive structural damage and mold growth. ServiceMaster Bay Area provides flood damage restoration services to remove standing water from homes and businesses in Galveston, TX. Our technicians have the right equipment to extract flood water and we can also effectively dry and restore the damaged areas.
Flood Damage Cleanup Process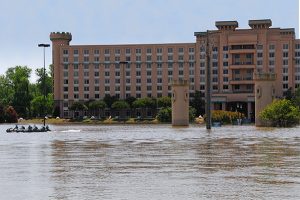 Indoor flooding is a serious issue and whether it's in your home or business, you cannot hesitate to act. Excessive amounts of water easily penetrate wood, drywall, flooring, insulation, and other building materials which can cause buckling, swelling, and general weakening of the materials. Building materials weakened by water are at risk for serious structural damage as well as mold growth which will only add to the damage and introduce the risk of negative health effects. Our technicians will immediately keep the flood water contained to the affected areas and set up our water extraction equipment to remove it. We follow up the water extraction process with in-depth drying and restoration to ensure that there is no further risk of damage or mold growth.
The flood damage cleanup services we provide include:
Initial Assessment: Our technicians will assess the damage right away and create a restoration plan to remove the water and repair the damage. We will inform you on the details of our assessment.
Advanced Equipment: Our water extraction equipment is among the best available and we also use powerful dehumidifiers and air movers to dry the affected area after removing the flood water.
In-Depth Drying: Our drying equipment can effectively extract excess moisture from wet furnishings, flooring, drywall, woodwork, and other affected materials.
Odor Removal: Flood water can leave behind a musty odor, especially if the flooding results in mold growth or contains sewage. We can effectively remove any lingering odors with our odor removal process.
Flooding from Sewage Backups
Sewage backups are one of the most dangerous sources of indoor flooding because they can cause extensive water damage and present serious health risks. Blockage in the sewer line is usually the cause of a sewage backup in the home and the water may consist of waste, bacteria, and other harmful microorganisms that cause serious health effects. You must make sure that no one makes contact with the sewage water or attempts to clean it up because improper cleaning may result in further damage and a higher risk of infection or disease. ServiceMaster Bay Area can safely clean up flooding caused by sewage backups to prevent extensive water damage and potential health issues. Our technicians can thoroughly dry the affected area once the sewage is removed and we also restore the area with anti-microbial applications to remove any harmful materials.
Any case of indoor flooding in a home or building has the potential to cause serious damage and there is also a chance indoor flood water can contain sewage or dangerous microorganisms. Call ServiceMaster Bay Area immediately after experiencing flooding in your home or building in Galveston, TX to remove the water and ensure that the affected areas are dry, mold free, and safe to use. You can call us 24 hours a day at (281) 916-1699 to respond to your flood damage emergencies.