Water Damage Related Info
Water damage is a common problem in homes and all types of commercial buildings because it can be caused by so many factors from severe rain and flooding to high humidity and leaking pipes and fixtures. Ignoring flood damage can be dangerous because the excess moisture will spread through porous building materials and it could also lead to mold growth.
RestorationMaster provides water damage cleanup and restoration services to help homes and businesses in Denton, TX that have sustained water damage. We will remove the excess water and moisture from the building and repair or restore the resulting damage.
Trusted Restoration Professionals
Providing a quick reaction is the key to mitigating water damage before it spreads too far and our technicians will arrive to begin the restoration process within 2 to 3 hours of your initial phone call. We use advanced drying equipment that includes moisture meters, air movers, and dehumidifiers which can completely dry out structural elements and furnishings if the restoration process begins early enough.
Our technicians are trained to follow the restoration methods outlined in the Advanced Structure Drying Guidelines and the IICRC procedures to complete the cleanup process in about 2 to 5 days.
Water Damage Repair Process
RestorationMaster water damage mitigation services begin with a complete inspection of the damage using moisture meters and thermal cameras and our findings are documented and entered into our cloud based software. This information can be accessed through the cloud at any time throughout the process. Then we use the air movers and dehumidifiers to remove the excess moisture and as we work, we can help you decide which structural elements and furnishings can be dried and which ones should be replaced.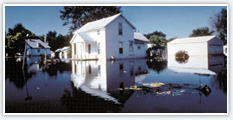 Water Extraction – What to Do:
The source of the water damage must be repaired because we do not provide plumbing services and we cannot begin the restoration until the water leak has stopped.
Valuable items that you do not want disturbed should be put in a safe place.
Turn off the power if the water damage is extensive, we will address the power issue as part of our service.
Water Damage Restoration – What NOT to Do:
Do not dispose of the source of the water damage because it may be needed for the insurance claim.
Do not ever leave water damage to dry on its own.
As soon as you notice water damage in your home or building, contact RestorationMaster for flood damage repair services. We will respond within 2 to 3 hours of your call and we offer free estimates for this service.
We are available 24/7 at (469) 809-4508 to respond to all water damage restoration emergencies in Denton, TX.
---
Related Water Damage Cleanup Services
Water Damage Cleanup in Dallas, TX
Professional Water Restoration Services – Frisco, TX
Plano, TX Water Damage Restoration
Emergency Flood Extraction in Garland, TX