Water Damage Related Info
There are so many ways that water damage can happen in your home which is why it is among the most common sources of property damage. While small instances of water damage seem pretty minor, excess water can spread quickly through absorbent building materials such as wood, drywall, and insulation to cause more severe structural damage and mold growth.
RestorationMaster provides water damage restoration services in Frisco, TX to remove water and moisture from homes and buildings. Our advanced drying equipment helps us completely remove excess water from your home and we can also repair and restore damage caused by water.
Structural Damage from Water and Moisture
It is very important to address water damage as soon as it is discovered because of how quickly it can spread and we make sure to arrive on the scene within 2-3 hours of your call to mitigate the damage. With an early enough response, we can completely remove excess water and moisture from the structural elements and furnishings of your home using dehumidifiers, air movers, and moisture meters.
Our technicians are trained to restore all levels of water damage in commercial and residential settings according to IICRC procedures and the Advanced Structure Drying Guidelines, and the restoration process generally takes about 2 to 5 days.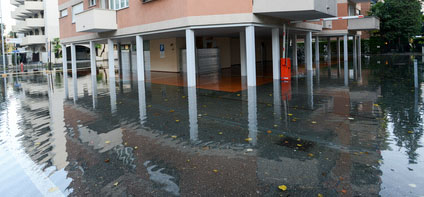 Water Damage Restoration Process
Before the restoration takes place, we do a complete evaluation with moisture meters and thermal cameras to determine the extent of the damage. The results of this evaluation are stored in our cloud based software that our technicians can access for you at any time.
After the evaluation, we set up air movers and dehumidifiers to dry wet structural elements and furnishings and our technicians can help you make decisions about what can be salvaged with the drying process and what should be replaced.
Flood Cleanup – What to Do
You must repair the source of the water damage before we can begin the restoration because we do not provide this type of service and cannot restore the damage if water is still coming in.
Put all valuable items in a safe place where they will not be disturbed.
Shut off the power in your home for widespread water damage, our technicians will fix the power issue along with our water damage restoration service.
Water Extraction – What NOT to Do
Do not throw away the broken part responsible for the water damage because you may need to show your insurance company for the claim.
Do not ignore water damage, it will not dry on its own but only spread and get worse.
Time is of the essence when it comes to reacting to water damage because the longer it goes untreated, the more damage it will cause by spreading. Contact RestorationMaster as soon as you discover water damage in your home in Frisco, TX for a free estimate. We will arrive within 2 to 3 hours of your call and our phone lines are open 24 hours a day at (469) 809-4508 to respond to your water damage emergencies.
---
Related Water Damage Restoration Services
Water Damage Restoration in Dallas, TX
Garland, TX Flood Cleanup Services
Water Damage Repair in Denton, TX