RestorationMaster of North Texas
Water Damage Related Info
First, RestorationMaster of North Texas would like to thank everyone for choosing our flood restoration services during such a stressful time. Our technicians are proud to have a strong reputation in the Dallas, TX area, ensuring each customer the best results in order to guarantee complete peace of mind every time.
Our professionals treat each fire and water damage situation as an emergency because we know the damage can spread with time. So we ensure to arrive right away to remove the source and begin the process as quickly as possible. If this is your first water loss, not to worry. RestorationMaster of North Texas has been restoring homes and commercial buildings from natural disasters since 1978. There is no job too big or too small that we won't handle.
Our Water Mitigation Services
Each water damage case is taken very seriously, handling properties of all sizes to provide complete peace of mind for everyone. Our services also guarantee that the structure will be restored to its original condition both effectively and efficiently.
Below is a list of procedures that are included in our water damage cleanup service. As each case is unique, not all steps may not pertain to you particularly, but if needed, a brief description of each procedure is provided for your understanding.
If you have any questions regarding these services, feel free to refer to our water damage FAQ page listed above or give us a call for more information about the service. Our technicians have years of experience and will be able to answer your question fully and in a timely matter.
Starting the Water Extraction Process
As soon as RestorationMaster of North Texas arrives, our technicians will begin inspecting the damaged areas of the property. The source of the problem will then be removed using the moisture-detection meters, sensors, and probes. All the damage will then be contained within the affected area.
A restoration plan will then be developed to ensure an efficient and effective process. If you chose to file an insurance claim, we will need clearance from them before beginning any work as they must also inspect the area.
Water Damage Restoration Checklist
√ Attic Inspection. Water damage is often the cause of roof leaks, often going unnoticed until it has spread throughout a number of building materials. All wet insulation will also be removed and replaced while working to repair the roof.
√ Basement inspection. Any water seeping through the foundation from rain or storms can cause considerable damage for the basement and its contents. RestorationMaster of North Texas ensures to inspect and dry out this area to prevent mold from growing.
√ Inspect the air duct system. Especially if the air ducts contain accumulated dirt and debris, additional damage and blockages can occur if they become wet. We will ensure to inspect and dry them out if this is the case.
√ Inspect the crawlspace. The crawlspace can be great for storage and air circulation, but water can easily flow through the foundation and cause severe destruction to the ceiling, walls, floor, and belongings. This will also be inspected by your technician.
√ Damage prevention to household belongings. If your personal items were also damaged during the flood, RestorationMaster of North Texas can provide content cleaning and pack out services in order to fully restore them to their original condition. The cleaning process may also take place at our climate-controlled facility, transporting, and storing your restored items here until the process on your home or building is complete.
√ Water Restoration. After the inspection of all damaged building materials, the excess water will be extracted using our professional equipment. Then we will set up powerful dehumidifiers to remove the remaining moisture from the building materials and air spaces.
Examination of Flooring Materials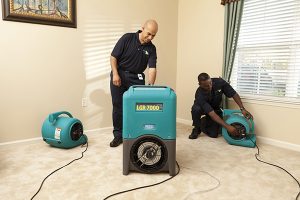 √ Laminate. The floor will either be dried in place or replaced if it is too heavily damaged.
√ Vinyl. The material may either be dried out or replaced, depending on its condition.
√ Tile. Again, the material may either be dried or replaced.
Inspection of the Ceiling, Cabinets, and Walls
√ Cabinet inspection. If there is no insulation within the cabinets, they can easily be damaged by water. Our technicians will ensure they are inspected thoroughly and if they need to be restored, we can drill holes to allow for proper air circulation.
√ Removing sheetrock/drywall. Drywall is a porous material, meaning that it has small holes that can hold water and become damaged. The material may also need to be replaced if the extent of the damage is too severe.
√ Remove the doors from the hinges. To allow for the best air circulation, the doors may need to be temporarily removed from their hinges.
√ Remove the baseboards. Depending on the building material, removing the baseboards may be required to allow proper air flow to the structure.
√ Drill holes in walls/ceilings/sheetrock for proper air flow. To prohibit mold and microbial growth, holes may need to be drilled within the walls and ceiling, depending on the extent of the damage.
√ Apply anti-microbial spray. The drying equipment will enhance the drying process, but microbial growth may still be present within the drying structure. So RestorationMaster of North Texas will apply anti-microbials in order to eliminate them completely.
√ Deodorization. Not to be confused with mold, you may notice a strange smell coming from the drying materials. If this poses an inconvenience, we can apply deodorizers to eliminate the odor for you. But eventually it will go away on its own.
√ High velocity air movers. This equipment will allow for improved air flow and will extract the moisture from the structure. Multiple may be needed, depending on the amount of damage.
√ Install dehumidifiers. After the air movers have pulled the moisture from the building materials, our dehumidifiers will eliminate it from the air while preventing damage to the ceiling.
√ Scheduling additional appointments. To properly monitor the drying process, it may be necessary to schedule additional appointments. These appointments may involve any of the following:
Monitoring of the drying equipment, moisture levels, and temperature
Re-positioning the equipment
Inspection of the progress
Our facility is available to schedule additional appointments during business hours at a time that works for you.
Examination of the Carpet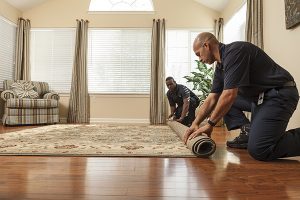 √ Removal of unsalvageable carpeting. If the extent of the damage to the carpeting is too severe, it won't be able to be restored. If affordable, it should be replaced, a service we can proudly provide at your convenience.
√ Remove the padding. If the carpet padding is too wet, it may need to be replaced to prevent microbial growth during the drying process.
√ Opening of seams. The carpeting and threshold will be removed from the tack strip to determine the extent of the damage. If the condition is too severe, the carpeting may need to be removed to allow for an efficient drying process of the padding.
√ In-place drying. If the carpeting is only a little damp, it may only need to be dried in-place.
For questions regarding any steps of our water damage restoration process, please feel free to visit our water restoration FAQ or give RestorationMaster of North Texas a call at (469) 809-4508 . We look forward to hearing from you!