Fires can strike without warning and they often cause significant damage to a home or building that requires immediate attention. As soon as the flames are put out, it is crucial to begin the restoration process to mitigate the damage.
ServiceMaster Restoration by Century provides fire damage restoration services to help restore homes and businesses in Dallas, TX that have been damaged in a fire. The corrosive byproducts left behind can cause permanent damage and we respond quickly to help reverse the damage before it becomes permanent.
Smoke Damage Cleanup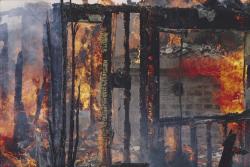 The technicians of ServiceMaster Restoration by Century are IICRC-certified and experienced to handle fire damage restoration and deodorization services for commercial and residential settings.
We use the most advanced cleaning methods and equipment of the industry to remove soot and smoke damage as well as smoke odor from the structures and furnishings of your home. It is important to call us as soon as the flames are extinguished because the damage can become permanent very quickly.
Fire Damage Repair – Check Out Our Video:
Our emergency fire damage restoration process includes:
Emergency pre-cleaning
Content cleaning
Content pack-out
Wall and ceiling cleaning
Deodorization
Smoke Damage Mitigation
In addition to fire damage restoration, we can also remove soot damage left behind from the smoke. We use specific chemical combinations that can effectively remove the soot from at-risk surfaces including aluminum, brass, marble, porcelain, tile, and stainless steel as well as fabrics such as carpet and upholstery.
Do not hesitate to contact ServiceMaster Restoration by Century if your home or business in Dallas, TX has been heavily damaged by a fire. Our technicians provide effective fire damage repair services and we can remove smoke damage and odor from a variety of household surfaces.
Fire Damage Repair Tips
Fire Restoration – What to Do:
Call ServiceMaster Restoration by Century for immediate fire damage restoration services.
Improve the air flow throughout the property by opening cabinets, doors, and closets.
Place 2 layers of damp cheesecloth over all air registers to prevent additional soot damage.
Unplug the refrigerator and dispose of all exposed food.
Throw away all food in the kitchen.
Change the HVAC filter.
Wipe off all plant leaves containing soot and smoke residue.
Wipe off only materials that include: Formica, porcelain, and aluminum.
Deliver all clothing needed for immediate use to an emergency restoration dry cleaner.
Smoke Damage Cleanup – What NOT to Do:
Do not touch anything with your bare hands.
Do not try to clean any damaged porous materials yourself.
Do not enter any room with significant structural or electrical damage.
Do not use any electronics that were affected from the fire.
We are available 24/7 at (972)362-0999 to respond to all fire damage emergencies.
In addition to Dallas, TX, ServiceMaster Restoration by Century is available to serve all of the following counties:
Dallas county, TX
Rockwall county, TX
Collin county, TX
Denton county, TX
---
Related Fire Damage Restoration Services
---
Recent Reviews
Review by

A.D.
Rating

"Your attention to detail. Appreciate your customer service and promptness in getting someone out to my home."
---
Review by

B.T.C.T.
Rating

"PROFESSIONAL, COURTEOUS, QUICK, NEAT AND KEPT US INFOR. WE WERE MED AS TO ALL ASPECTS OF THE PROJECTVERY SATISFIED."
---
Review by

J.J.
Rating

"Incredibly fast response!"