972-362-0999
Mold growth within the home is a common problem for every property owner. Unfortunately, once it starts, it has the ability to spread to other locations of the home or building without anyone even noticing. This is because it is most often located behind the walls, in the basement, attic, crawlspaces, and other hidden areas. It can also be difficult and dangerous to remove as the spores will trigger allergies and other negative health effects.
However, RestorationMaster provides professional mold remediation services in the Dallas, TX area. Our technicians have years of experience in completely removing all cases of mold, including the source. With our services, you can expect to have an improved indoor air quality as well as a relief of allergy symptoms.
Damages from Mold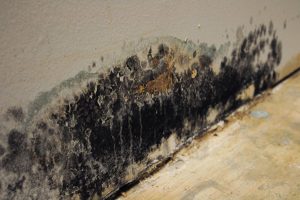 While mold will usually start small, it will grow quickly if it has not been treated right away. It has the ability to disperse its spores throughout the air to infect other areas with a high concentration of cellulose and moisture.
This combination of organic substances creates the perfect breeding ground for the spores to harbor. Once developed, it actually devours its host, your building structure, as it constantly looks for a new source. The building materials that are at the highest risk for mold include: drywall, wood, paint, particleboard, and other organic materials.
However, the mold remediation professionals at RestorationMaster are knowledgeable about mold and its capabilities, using perfected methods and advanced equipment to remove it effectively. Our products are also especially designed for eliminating all spores, preventing them from returning in the future.
Our mold remediation services consist of the following steps:
All areas containing mold will be identified.
Any areas that are at high risk for future growth will identified and secured.
All mold is eliminated with the use of advanced products and equipment.
All water damaged areas will be restored to their original conditions.
The remainder of the contaminated area will be completely disinfected and any damage will be restored.
Any future mold growth will be prevented by applying a special mold-restraining product.
Post-inspection to ensure all mold is eliminated and will not return in the future.
Mold Damage Restoration – What to Do:
For mold remediation services in the Dallas, TX area, call RestorationMaster at (972)362-0999.
Mold Damage Cleanup – What to Do:
• Call RestorationMaster immediately upon encountering the mold.
• Turn on the fan, A/C, or dehumidifier to increase air flow and eliminate any moisture within the property.
• Inspect the HVAC system as it is prone to containing mold.
• Dry off any wet walls that do not contain mold.
• Repair any water leaks throughout the home.
• Always wear eye glasses, a mask, and gloves when present around the mold.
Mold Restoration – What NOT to Do:
• Do not disturb any visible mold.
• Do not try to clean the mold yourself.
• Do not place a fan directly in front of the mold.
• Do not paint or caulk over any moldy surfaces.
Professional Restoration from Mold
In order to remove all cases of mold, including its source, it is best to call the professionals. This is because any improper cleaning techniques and products used can actually worsen the damage; therefore, any additional spores will be dispersed while the fungus retreats further within the affected area.
However, the mold removal technicians at RestorationMaster will have it effectively removed from all areas. Our advanced products and equipment will reach deep within the contaminated areas and kill all spores and bacteria while preventing them from returning in the future. Lastly, once all areas have been disinfected, any damaged building materials will be restored to their original conditions.
For professional mold removal services in the Dallas, TX area, call RestorationMaster at (972)362-0999. We also work with insurance.
---
Mold Damage Cleanup Services
Mold Damage Restoration in Garland, TX
Mold Remediation Company in Denton, TX
Mold Removal Company in Frisco, TX