RestorationMaster of North Texas
[call](847) 380-7888[/call]
Water Damage Related Info
If your home or building has suffered from severe water damage and is located in the Dallas, TX area, make sure to call RestorationMaster of North Texas right away. Doing this will prevent the damage from spreading and minimize time and costs spent to restore the property. Just keep in mind that the water will flow to the areas of least resistance, starting along the floorboards.
As soon as building materials are damaged from the water, it can be difficult to dry them completely. Over time, they can become swollen, discolored, and delaminated at the seams. If prolonged even longer, the flooring will start to dissolve, the water spreading to other areas, and even damage the ceiling after evaporating into the air.
Setting Up Drying Equipment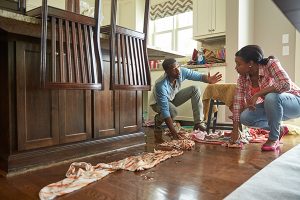 When it comes to properly drying out building materials from water damage, the technicians at RestorationMaster of North Texas have years of experience. Using a combination of high-velocity air movers and dehumidifiers, we can effectively dry out the structure in a timely manner. Our technicians have also been able to accelerate this process over the years, taking multiple training sessions while upgrading to the latest equipment to ensure the best results.
Ultimately, your peace of mind is our goal at the end of day, so are always looking to provide the most efficient and effective water damage restoration services in the Dallas, TX area.
Our Drying Process
The information provided below includes a general description in regards to our drying process. As each situation is unique, specific details are not included, but it does provide a breakdown of the drying process as a whole. If you have any questions regarding our water damage repair services, please refer to our FAQ guide provided above.
RestorationMaster of North Texas' drying process consists of 4 main steps that include the following:
1. Immediate Response and Service
Soon after receiving your first call, our trained and experienced team will respond immediately and provide you with an Authorization of Services form upon our arrival. This is a formal agreement between you and our RestorationMaster of North Texas team that provides a summary of our services in exchange for your payment. As soon as it is signed, we will begin working on your property right away.
All affected areas will be thoroughly assessed, identifying the damaged building materials to determine the scope of the project. A restoration plan will then be developed, including either in-place drying or removal of the building materials to allow for enhanced drying.
While we work to restore as much of the structure and contents as possible, please keep in mind that it would be more cost-efficient to replace some items. RestorationMaster of North Texas will work with you and your insurance provider to determine which items would be best to replace.
If you had a sewer backup, all porous materials will be removed, including wood, carpeting, insulation, and drywall. This is always done within the initial visit and replacements will be ordered. The remaining hard surfaces will be thoroughly disinfected and sanitized to restore a clean living condition.
Inspection of the Structure
As we are always working to achieve the best results and efficiency, it may be necessary to schedule additional appointments in order to properly monitor and adjust temperature levels and drying equipment. These appointments can be made by calling our RestorationMaster of North Texas office at (469) 809-4508 and we will schedule a time that works best for you.
2. Carpet Repairs and Restoration
When your carpet is fully dried and ready to be reinstalled, the padding may need to be replaced. As soon as the replacement is installed, the carpeting will be stretched, attached to the tack strip, repaired at the seam, and the threshold will be replaced.
Finally, we will sanitize and deodorize the carpeting to prevent bacteria and mold growth. The drying equipment will also be removed.
3. Restoration of the Structure
If the structure was severely damaged by water, it will be thoroughly inspected by one of our technicians. In some cases, it may be necessary to remove any doors, baseboards, or furniture to allow for proper air flow throughout hidden building materials.
You can also see a breakdown of the restoration process by checking out our water damage cleanup checklist.
4. Preventing Water Damage in the Future
Did you know that many accidents can be prevented by taking a few simple steps? Please visit our water damage prevention guide for simple tips on preventing everything from appliance malfunctions, pipe leaks, and even natural flooding. While they aren't 100% guaranteed to prevent the disaster, they can minimize the chances of it happening again in the future.
For specific questions regarding the condition of your property, please give RestorationMaster of North Texas a call at (469) 809-4508 and we will be happy to answer them for you.